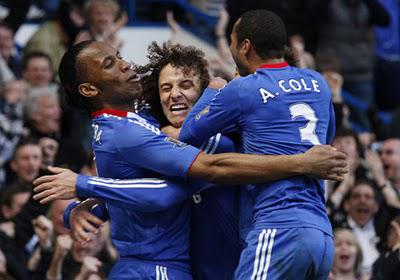 By: Zach Sabo
1. 

Manchester United, 63 pts - 
Manchester United picked up an uninspired win this weekend against Bolton.  It was a game, in all honesty, that neither team deserved to win.  For the first 80 minutes or so, United played uninspired and without cohesion.  They created very few chances and it looked to be headed for the scoreless draw.  Johnny Evans' late, straight red card seemed to energize the team who were able to equalize on an 87th minute rebound goal from Dimitar Berbatov.  It was a crucial three points for the team as they hadn't earned any from their previous two matches.  The Premier League is taking yet another break, this time for international purposes, but when United returns to the pitch on April 2nd, it will be against super-signing Demba Ba and West Ham.  West Ham have been playing very good football lately, earning seven points over a period of time in which United only won three.  It will not be an easy match for United to win, as West Ham have beaten and drawn Liverpool and Tottenham respectively over the past three match-weeks (the other one was spent thumping Sunderland 3-0).  Despite their win over Bolton, United does not yet look back in form, and they will be playing away from the friendly confines of Old Trafford.  Hopefully for their sake, the final 10 minutes of last weekend's match will bring out the confidence this squad has had throughout the season.  This will be a tough, important three points for United as Arsenal are still nipping at their heels and Chelsea are making themselves more and more relevant by the week.                
2. 

Arsenal, 58 pts -
Arsenal, who had pulled themselves semi-level with United (three points down with a game in hand), took a bit of a step back over the weekend at The Hawthorns.  Lowly West Brom jumped out to an early 2-0 lead, but Arsenal were able to rally back with goals from Andrey Arshavin and Robin van Persie, who continues to be in scorching form.  Even with the comeback, it was a disappointing outcome for The Gunners.  With a chance to stay on the same level as United, they were unable to go into a bottom-dweller's home and come away with three points.. again.  Arsenal need to avoid their typical collapse in big games.  They showed great fighting ability coming back from down two goals, but these are the types of games they need to be winning, not drawing.  Their next chance to flex their muscles will be in two weeks when they take on Blackburn.  Blackburn are even in points with West Brom (both considerably lower than Arsenal), but it will be a big game for Arsenal nonetheless.  A comfortable win will keep them within striking distance of United in the title race as well as give them the confidence they need going forward.  Good news for The Gunners, Blackburn are in terrible form.  They have only picked up two points in their last six matches, the same stretch which has seen Arsenal collect twelve.         
3. 

Chelsea, 54 pts -
Chelsea continue their blistering form with a convincing 2-0 win over Manchester City on Sunday.  No one is playing better than Chelsea at the moment, who have taken 13 of a possible 18 points out of their previous six matches.  Two teams have equaled them over this stretch, and their next opponents are one of them.  They travel to Britannia Stadium on April 2nd after the international break to take on Stoke City, what should be a relatively simple fixture for The Blues given their current run of play.  Although Chelsea remain nine points out of first, they have a game in hand on United and, as of right now, are doing their part to get themselves back into the title race.  There is definitely enough time for them to overtake both Arsenal and United, and it isn't out of the question given United's recent struggles and Arsenal's tendency to falter down the stretch.  Look for Chelsea to continue to close the gap as the end of the season nears.  
4. 

Manchester City, 53 -
Manchester City's title hopes took a major hit this weekend with their loss to Chelsea.  They are now 10 points back of United having played the same amount of games.  They have very little time to get themselves back to the top of the table, and given their string of injuries (add Carlos Tevez to that list as a late scratch on Sunday), their worries now lie in maintaing their current Champion's League spot for next season.  Luckily for them, Tottenham were only able to snag one point from their match with West Ham over the weekend, but they are only four points back of City with a game in hand and could easily overtake City in the next six games.  They will be extra motivated, too, as they will surely want to be back in the Champion's League next season given their success in this year's competition.  Manchester City will host Sunderland on Sunday, April 3rd after the international break.  This is the perfect opponent for the other Manchester team as no one is currently playing worse than Sunderland.  They have five losses and one draw in their last six matches, that's a measly 1 point out of a possible 18.