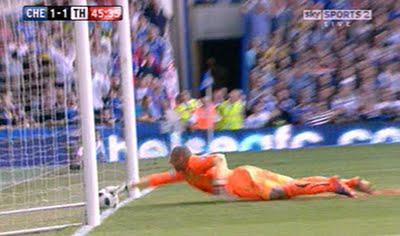 So I'm switching it up a little because, frankly, there's just no point in focusing on Arsenal or City this week.
1. Manchester United, 73 pts - Well, United's worst-case scenario came true. Their loss at Arsenal and Chelsea's "win" against Spurs leaves the Red Devils just three points ahead of the Blues going into this weekend's clash.
2. Chelsea, 70 pts - Chelsea, grab your nearest Arsenal fan and give him/her an appropriately lengthy kiss and/or hug and/or high five-chest bump celebration combo. In fact, the entire football
world
can be proud of that incredible, astonishing, miraculous, stunning, life-altering, endorphin
-
inducing, awe inspiring, superhuman
farce
of a comeback in last Saturday's match against Spurs*.
*There is no possible way a refereeing conspiracy mistake has had/will potentially have as much of an impact on the landscape of English football as what was witnessed this weekend. First of all, the Chelsea/Spurs match. Video evidence proves Chelsea's first "goal"
never crossed the line
, and that their second was scored from an
offside position
. These two "goals" brought the score line from a 1-0 defeat to a 2-1 victory for the Blues. Meanwhile, in the Manchester United/Arsenal match the following day, there were several non-calls from inside the box that should have earned either squad a penalty (or two). The first was the now-infamous missed
hand ball
by Nemanja Vidic. Flagrant though it was, Manchester United also had a reason to complain about the officiating when a late penalty was not given after Gael Clichy committed a clear foul on Michael Owen in the box. Now I know there is no telling what would have happened had both of these penalties been given, but even still these refereeing gaffes caused an arguable six point swing in the title race (Chelsea were awarded three points they did not earn, Manchester United were robbed of two, if not three points). Not only could this have an obvious impact on who ends up winning this year's Premier League title, but it also A) ends Spurs' hopes of getting back in the Champion's League next season, and B) allows them to be passed by Liverpool for next year's Europa League spot. The referees are there to facilitate the quality of the game, not decide its outcome.
Bad calls aside, the EPL got what it wanted: United v. Chelsea, number one v. number two showing off in the most important match of the 2010/11 season.