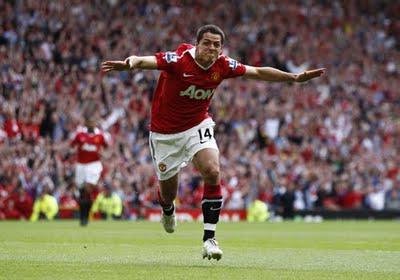 It's a good thing this photographer had his camera ready 36 seconds into the match.
With this weekend's 2-1 defeat of Chelsea, Manchester United is now one point away from clinching the Premiership title. They will have two opportunities to secure at least a draw, the first being at Ewood Park against Blackburn before welcoming Blackpool to Old Trafford for the second.
Chelsea is six points back of United with two to play after the loss and need a bit of help if they're to retain the title, but there's still hope!
----------
In other news not pertaining to this year's title, Manchester City secures the fourth and final Champion's League spot for the 2011/12 edition of the prestigious competition. This will be City's first inclusion amongst Europe's top squads.
And for no reason in particular, here's a crazy video: