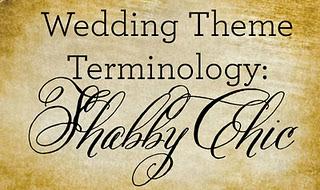 Good Morning! Hope you all had outstanding weekends. Today I want to begin a series that begins to demystify some of the popular wedding jargon and terms that are being tossed about today. No need to pretend that you understand what these terms mean while your planner or stationer is excitedly rattling off ideas in a somewhat foreign, "wedding-ese" type dialect... Make sure you now what they are talking about so everyone is on the same page!
Today's term:
Shabby Chic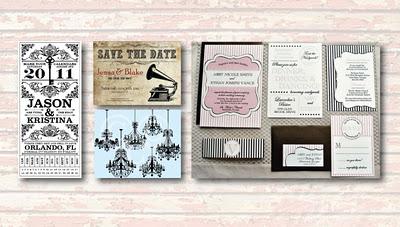 Ornate corners, brownish backgrounds, chandeliers, stripes and frames are
all under the Shabby Chic umbrella!
What does it mean?
Shabby Chic refers to a type of design that pulls elements from historical design periods. The more worn, old and distressed the elements are, the better! Think: wood, canvas or burlap backgrounds. Chandeliers, dated florals or baroque frames.

How is it achieved?
Those historical, "shabby" elements are then coupled/mixed with softer, minimalistic elements that balance the old with the more elegant and polished. Think: Stripes, modern/contemporary fonts, muted color palettes.

Is this a them you want to explore?
You might... Ask yourself if you are a fan of historical pieces. Do you like the distressed look? Do you think that it is appropriate for a wedding? Finally, what kind of feeling do you want your nuptials to have?

I think that Shabby Chic designs can be brilliant and are more interesting than just "another" vintage theme. Vintage is basically just the "shabby" portion of shabby chic. In terms of your paper and fonts, the possibilities are endless and the theme can be used inside any season.
Please enjoy some of the pics I gathered for inspiration and I'll be back on Wednesday!
Photo credits: Key with calendar | Save the Date with phonograph | Chandeliers | Striped Stationery
--ct