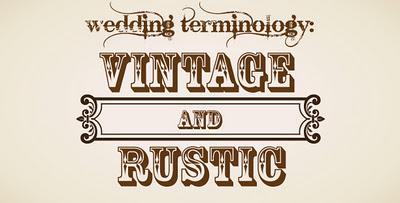 Happy Friday! Still breaking down thematic terms for your wedding paper. Earlier this week, I discussed Shabby Chic and Art Deco. Today's terms: Vintage and Rustic...
There has almost been a pre-occupation with this style in the wedding world, especially in the last 4 years... Part of this influence can be attributed to trends occurring elsewhere (i.e. fashion, interiors). We should also consider the popularity of certain wedding blogs, photographers and industry tastemakers such as
Style Me Pretty
.
There has been such an accelerated desire to borrow from earlier periods, that we may be accused by our successors of not having properly celebrated our own.
I'm actually a fan of this look so I'm not a wedding blogger that you'll find railing against all things vintage! I will say that you shouldn't just choose it, or get talked into it for no reason. It should be something you really love and a feeling that authentically reflects you and your partner.


I decided to focus on vintage and rustic together, because they typically go hand in hand. When thinking about your paper for both, think: Distressed paper, browns, circus fonts, ornate frames and corners, distressed type and old fashioned fonts.
How is this look achieved?
The best way to develop authentic looking vintage paper for your wedding is to look at actual documents (i.e. train tickets, posters, post cards, etc.) from earlier periods and be creative about re-purposing them.
Is this a theme you want to explore?
Maybe... Honestly this theme started out with couples who either wanted to be ironic, or who REALLY had connections with this period. This look is perfect for writers, history buffs, professors, etc. Ask yourself why you are passionate about this look. Just really put some thought into this before you decide to plop an antique typewriter on your guest book table. This IS becoming a look that has been out there a good little while.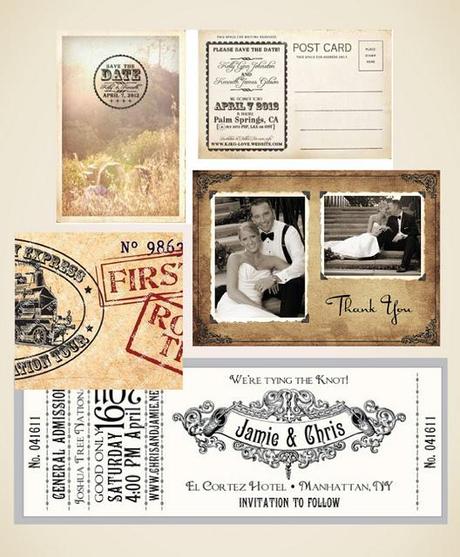 Postcard: KJohnstonCreative | Thank You: Nostalgic Imprints | Detail: emsquaredstudio | Ticket:  JamieKonet
Many of the vendors who specialize in this look offer GREAT recycled paper alternatives, please inquire.
Enjoy the pics and have great weekends everybody!
--ct