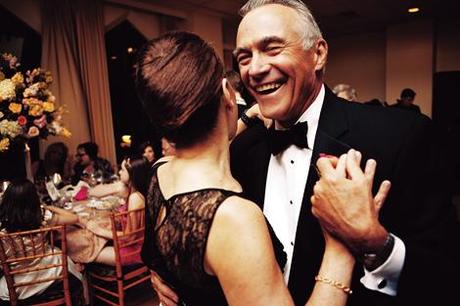 We recently got an Ask the Expert question from a bride looking for a Father/Daughter dance song that would honor both her parents. Honoring your parents (and their  marriage if it's still intact) at your wedding  reception is a great idea.
If your parents and/or your in-laws are still married, the obvious choice is to arrange for their wedding song to be played and invite them to dance.  Having too many dances where just one couple dances and everyone else stands around and watches can create a slow start to a wedding, so after they start the dance others can be invited to join in. Or, if you want to do something really special, consider hiring an impersonator to sing the song directly to them.
If they don't have a "wedding song" or one or more of the couples are now divorced consider choosing one of these songs from children to parents. Start the dance as a Father-Daughter or Mother-Son dance and then have the parents dance together while you dance with your new spouse. This is also a great way to use a Father/Daughter or Mother/Son song that you loved, but didn't fit exactly.
5. Sarah's Song – Sissel
4. You Raise Me Up – Josh Groban
3. Never Grow Up – Taylor Swift
2. Butterfly Fly Away – Miley Cyrus and Billy Ray Cyrus
1. Unforgettable – Nat King Cole and Natalie Cole
Another great option is to use a favorite song from childhood. Using something silly or childish that obviously has personal meaning is bound to bring a tear to every eye.