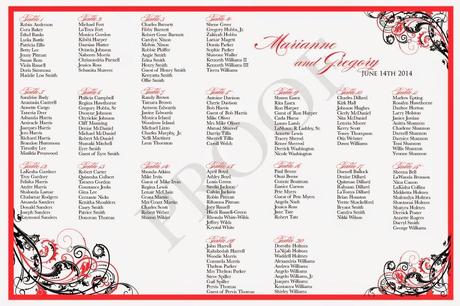 I've started to do over-sized electronic signage this wedding season! I'm usually hand lettering signage, so this is a little new for me!
Seating charts are their own animal so I thought I'd do a F.A.Q. on it in case you are wrestling with one of these guys right now...
1. What layout options are available?
You can either decide to have your list be alphabetized by last name or you can have your table numbers/titles and then the guests listed underneath.
2. Should the guest names be alphabetized?
I think even in the case where the guest's names are going underneath table name/number "umbrellas" you should still seek to alphabetize them just to help make it easier for quick recognition.
3. What size should I select?
Depending on your guest count, I'd recommend beginning at 18" x 24" for smaller guest counts, and up to 36" x 24" for larger counts. 30" x 40" for super large counts... (250+)
4. What are the different display options?
If you decide to get it mounted to foam core (lightweight, affordable stock that comes in different thicknesses), you can decide to sit it in an easel. If you'd like a more elegant look, you can have it printed and inserted into an elegant oversized frame from Michael's or Hobby Lobby.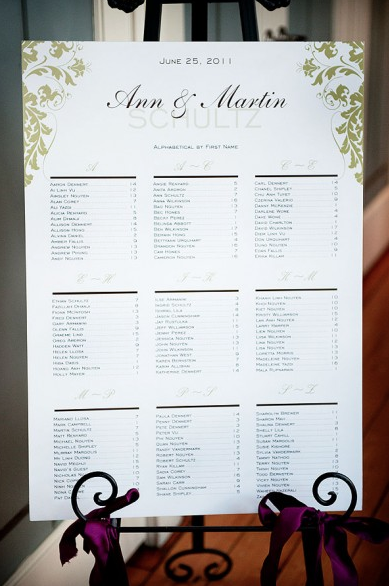 From vancitybride.com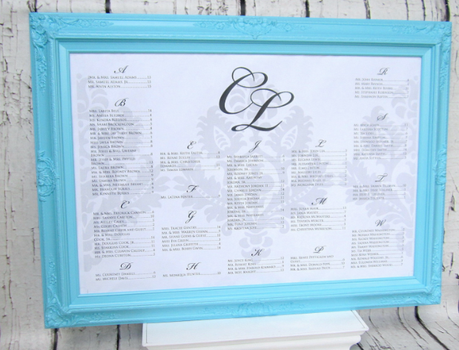 From Weddingbee.com
5. Do I need a design program to lay this out?
Illustrator and other design programs work BEST, however depending on the number of design elements you want to use, you may be able to get away with MS Word. Ask the printer up front if they can accept files from these simpler programs though. Sometimes they are incompatible with their software and you don't want to waste all that time.
6. Can I secure a printable?
Etsy has great printables. I'm just starting to post some, but definitely do some searches. Beautiful, elegant layouts.
Thanks for making us a part of your day and happy seating!
--ct