Hello there! If you are new here, you might want to
subscribe to the RSS feed
for updates on this topic.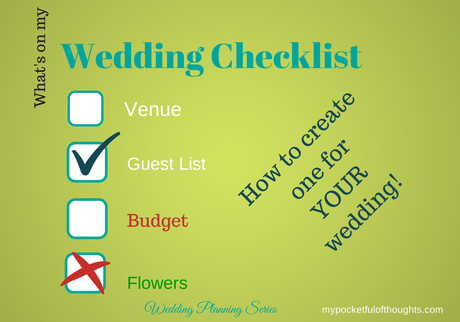 To start your wedding planning you must have your wedding day vision in mind. If you're not sure what your wedding vision should include check out I'm engaged! Now what? for ideas. Your wedding day vision will give you the blueprint and checklist for what you'll need for your big day. Take a moment to jot down all the things that make up that blueprint if you didn't already. Go ahead I'll wait.
Now this blueprint of your wedding day should give you a rough skeleton of what you'll need to research, book and purchase. Because my vision may vary greatly from your vision we'll look at the basic foundation of what you'll need.
1. The Ceremony.
[ ]Flowers? Silk, Real, Carnations, Roses, Pink, White …etc.
[ ]Music? An Ipod, a String Quartet, a singer …
[ ]What is the Bride wearing? A ball gown, a summer dress, a pant suit …
[ ]What is the Groom wearing?
[ ]Who is officiating? Priest, Justice of the Peace, a friend, etc.
[ ]Guests?
[ ]Bridal Party
[ ]Best Man
[ ]Maid of Honor
[ ]Photographer?
[ ]Videographer?
[ ]Where are you getting ready?
[ ]Budget
2. The Reception.
[ ]Guest List #
[ ]Venue can hold guest list?
[ ]How far is the venue?
[ ]Park? Barbecue?
[ ]Music: DJ, Band, Ipod
[ ]Budget
[ ]Color Scheme
[ ]Theme?
This is essentially how Daniel and I started planning. We had a lovely conversation in August, after the 100th person asked us what we were waiting for to get married. I wanted December and Daniel predicted a snow blizzard. He wanted June and I reminded him that I would be a sweaty, smelly bride. We compromised on November 1st. Since Halloween falls the day before we envisioned a masquerade ball. We'd all be fancied up and ready to dance the night away. It would be magical!
From that conversation we jotted down what we would need. Of course we didn't think of every single detail to start. I don't suggest it because it can be overwhelming. You want to make your overall experience as pleasant as possible. You don't want to be the couple that splits up because they almost killed each other planning the wedding. Don't get me wrong Daniel and I have had heated debates over details. But if we tried to tackle everything at once, forget about it! You'd be hearing about one of us on the news going to jail for … let's not go there. What's the saying? Slow and steady wins the race?
I've also turned to other sources to flesh out more of the checklist.
Bridal Magazines:
I also purchased this wedding planner to help keep me organized.

This is all to get you started. As you begin booking things your checklist will grow. You'll check things off and add more things. You'll decide to scrap details you thought you had to have. It's all about the journey towards marriage. Communication is key. Just remember to enjoy the process!
Can you think of other ways to start a checklist for planning a wedding? Share your thoughts with us in the comments below.
Until then,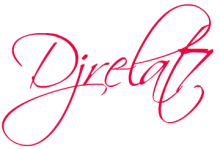 *This post contains affiliate links. They are items that I have purchased during my wedding planning journey. If you purchase a magazine or the planner through the links above, I will get a small portion of the sale that will help maintain the website. Gracias!