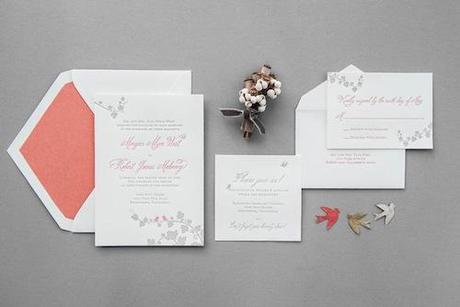 Check out these beautiful wedding invitations with my Belluccia calligraphy font
available at the Aerialist Press!
The talented  husband and wife team of Alexandra and Craig have used their design skills to create this "Vineyard" letterpress invitation with just the right balance of a clean modern arrangement and charm.
The coral ( the hot new color this year) and gray is a soft ethereal combination.
While the flowing branches of leaves and simple bird silhouettes add a sweet touch.
This "Pemberley" invitation suite goes for a bolder pop of a deep red-orange. 
Letterpressing further enhances the beautiful  floral and bird embellishments.
I LOVE  both the color and the angle of the address on the kraft envelope !
As always, the Aerialist Press does my Belluccia font proud.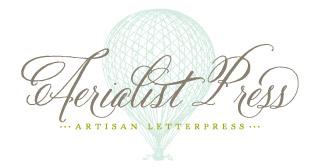 They even used it in their logo!
Check out a previous "Quill" wedding invitation they designed with Belluccia!
Both my Belluccia calligraphy font and her "sister" Dom Loves Mary calligraphy font share the distinction of being a "Rising Star" as well as a "Best Selling Font".
You can purchase them here.
Have a Thoroughly Modern Millie Thursday:)
Debi