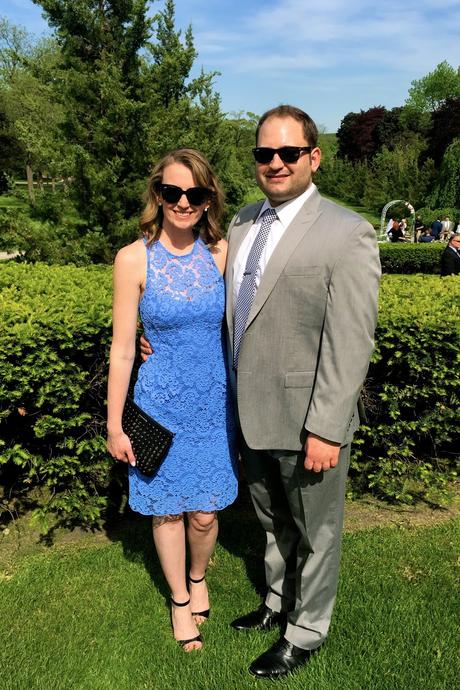 What I'm wearing: Nanette Lepore lace open back sheath (rent it here or buy it here), Rebecca Minkoff clutch, Zara strappy sandals
If you're like me, then your refrigerator is currently decorated with save the dates and your calendar is filled to the brim with weddings. Well 'tis the season! Over the next year we will attend numerous nuptials, each completely different in location and theme, but with one consistent similarity: the requirement to dress up!
As a boring / non- celebrity / regular person, the opportunities to get fancy are few and far between, so I welcome the chance to be a wedding guest! The job of a wedding guest is simple and clear: Don't wear white, drink too much, make the day all about yourself, or do anything else that could piss off the bride. On the flip side, we should, eat, drink, and be merry!
I chose this 

Nanette Lepore

 frock for my fiancé's cousin's big day because lace is such a romantic fabric, making it perfect for weddings. The halter top and back (not seen, but amazing) were insanely flattering. And in the freak chance the bride forgot her something blue, I could be right be her side!
Regardless of the dress code, a wedding is special, so your outfit should reflect that. I've rounded five dresses perfect suited for this season of love and celebration!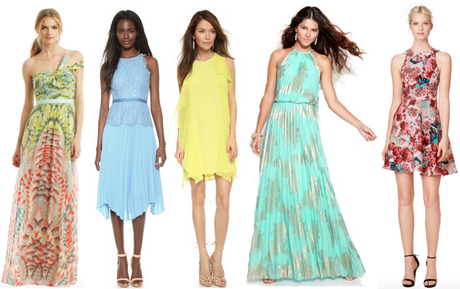 BCBGMAXAZRIA Inga Abstract Maxi / Shoshanna Sahara Dress / BCBGMAXAZRIA Lilie Dress / Xscape Metallic-Print Halter Gown / nha khanh Mallory Dress