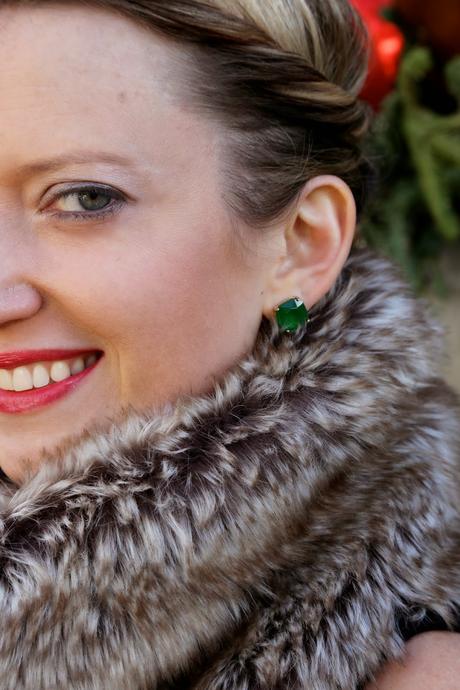 There's no time of the year that I love more than the holiday season. While most things are merry and bright these days, come winter my skin is quite the opposite. It's nothing by dry and dull. So when I visited Ulta recently, and was offered a free energizing facial by Bliss, how could I say no? 
The Bliss girls used a plethora of products from their energizing lines on my poor pores. When they were finished, I was glowing. LITERALLY glowing. Two of my favorites were their Triple Oxygen Instant Energizing Cleansing Foam and the Triple Oxygen Energizing Vitamin C Day Cream. Not only do these products leave my skin radiant, but they smell fantastic! 
In addition to discovering skin care products to help achieve a glowing face, I've also found two makeup products that take it one step further. We all know that primer is a MUST to help makeup stay all day, so I recently fell in love with Benefit's 'That Gal' Brightening Face Primer. Just like the name, it seriously brightens your skin and helps give my foundation a much needed glow.  I finish things off with an old favorite, Benefit's Watt's Up! Cream-to-Powder Highlighter. Benefit doesn't lie when they say that this soft focus product 

helps to 

highlighter turns on "watt" ya got with a delicate champagne glow that's gorgeous! These makeup products help 

achieve

 a 

subtle

, "snow kissed" effect, perfect for any holiday party!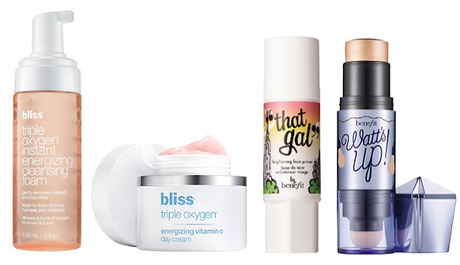 Shop these fantastic products here:  Bliss Triple Oxygen Instant Energizing Cleansing Foam / Bliss Triple Oxygen Energizing Vitamin C Day Cream / BENEFIT COSMETICS 'That Gal' Brightening Face Primer / BENEFIT COSMETICS Watt's Up! Cream-to-Powder Highlighter