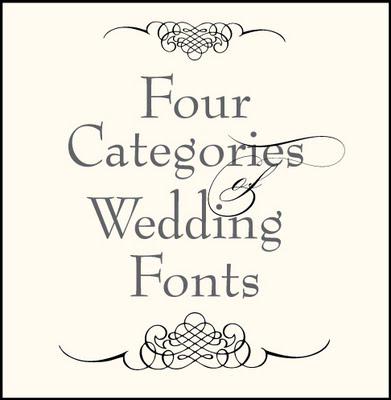 Wedding fonts have become so varied over the years. There used to be a few mainstays that were widely used, but with the development of so many new styles, it can be overwhelming to select the perfect font combo for your invitations.
I've broken down the categories of fonts and will provide a brief explanation of what each category can mean to your wedding stationery.
We'll begin with block fonts...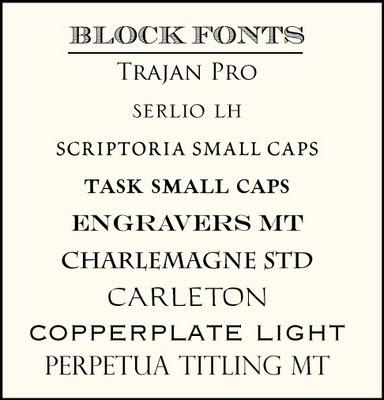 Block fonts look wonderful coupled with script or handwriting styled fonts. ALL script fatigues the reader's eye. Using block fonts for your main invitation information and using script for the couple's name makes your invitation panel flow nicely. Play around with the fonts to determine the most complimentary combination!
I have found that the block font, even used sparingly, is a little too harsh for some clients. I've found that using normal serifed or non-serifed fonts works better for this type of customer.
Again, these more legible fonts should be coupled with scripts. Designers should also remember that the body copy fonts, while devoid of imagery, ALSO creates a shape on your canvas. Be sure to come up with an appropriate shape for this type that will compliment and balance the selected script font.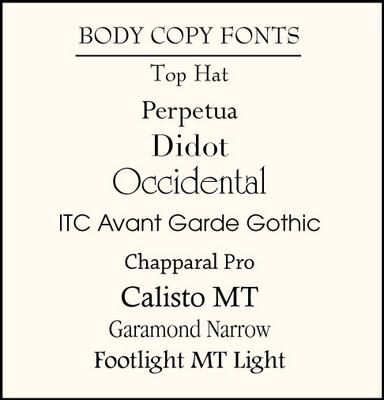 Ahhhh, the script fonts! These are what most people think of when they think of "wedding fonts!" Very beautiful and romantic, there are literally hundreds of options here. These flourishes, curves and shapes help to create a mood for your stationery. Choose well and know that there are tons more out there! These are just some of my favorites!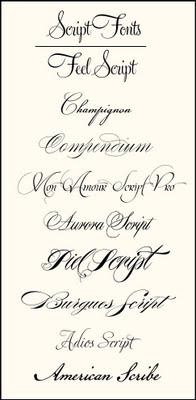 Finally, the handwritten font style has gained momentum in the last few years. No longer does a script have to be super curly and ornate to be effective! Brides are becoming more laid back and more than anything want their stationery to be DISTINGUISHED in some way from all the others out there! These handwritten fonts also look great with normal fonts and this image reflects some of the most popular...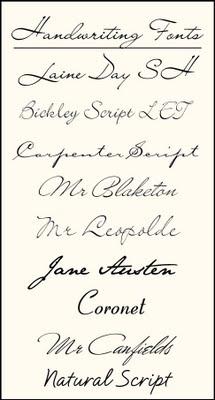 Take care til' next time when I'll be dissecting paper choices for your invitation suite. --ct