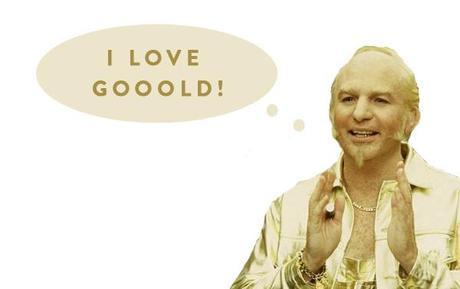 Every day, fellow writer Sarah and I peruse craft, art, and design blogs, and we couldn't help but notice this trend: Gold is everywhere! It's taken over the blogosphere! So we decided to do a DIY round-up!
We've picked our favorite gold DIY posts and compiled them here, so take a look!
Who said magnetic alphabet letters were just for kids? This do-it-yourself is fun and fast! Put them on the fridge or file cabinet. You'll have a razzle-dazzle way to leave messages for your roomies, family, or co-workers!
Here's a fun piece that will set off the whole room. Easy and cheap, take any piece of furniture that needs a fresh look and get to work!
Bamboo Sunburst Mirror
This mirror is perfect if you have a tropical look to your home, or if you feel like you need some sun in your life!
Leaf Jewelry Tray
Stripes never go out of style. This tray looks great contrasted against a dark piece of furniture, and it's easy to make.
Don't be deceived by the way it sounds. It's quite fabulous and oh so simple to create! I promise, it will be the most glam trash can you've ever owned!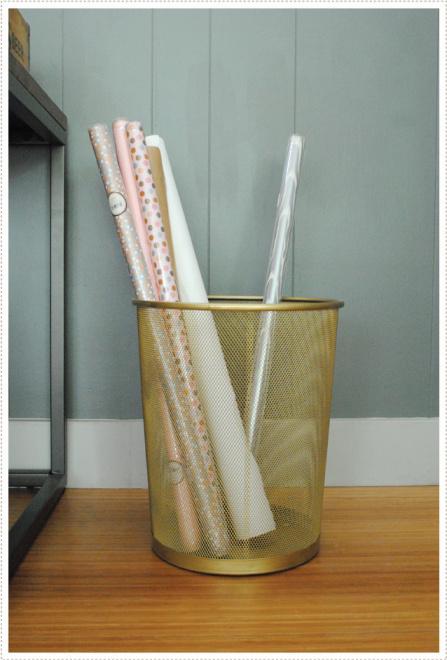 Photo by Mermag
Bring the outdoors inside with these quaint gold planters. If bunnies aren't your thing, check the thrift stores for other unique planters that can be spray painted.
This DIY is great for an ugly side table you have hanging around. If you don't already have a table, check out your local flea markets and garage sales; you're sure to find a steal there! This makes for a great refurb project!
Coasters
A simple, cheap, and easy way to make some coasters. Use them for drinks or as part of a centerpiece. Either way, it's easy to make as many as you need!
Tired of your old, boring blue jeans? Glam them up with gold! This DIY is simple and trendy! All your friends will want to copy.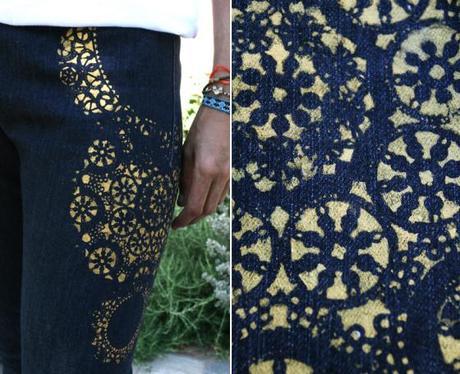 Photo by Honestly WTF
Need a new t-shirt, but don't want to pay retail price for a great design? How about this Helvetica tee? This tutorial is great because you don't have to use the font Helvetica. You can choose whatever font and letter you want! To find awesome, free fonts, look here!
These rocks look modern without being too outdoorsy. They'd look great in a glass vase on the counter or end table. You could stick a magnet on the back and place them on the refrigerator too!
Though Easter has passed, these would be great for everyday décor. Stylish and unique, they're sure to make a statement.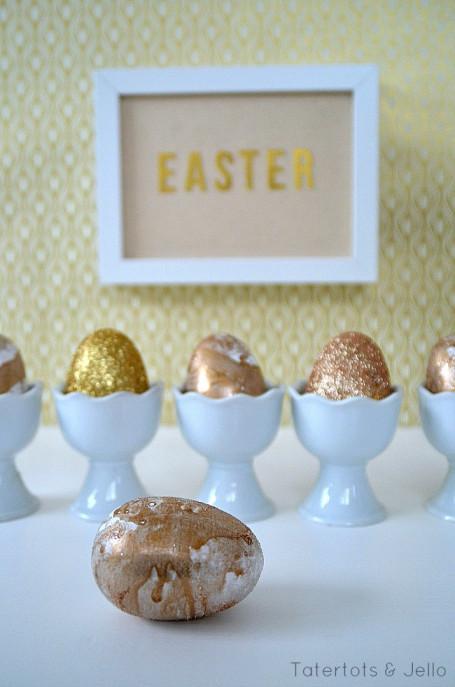 Photo by Tatertots & Jello
Wall Art: Ombre Diptych
This wood wall art takes little skill and looks great in two or three pieces. I think it'd make a great headboard as well!
A beautiful mirror can cost hundreds of dollars. Monica decided to make her own, and I think it's better than her inspirations! This project will get you outside in nature and result in a handsome mirror.
Animal Bookends
If you're a big reader, I bet your shelves are jammed with books (like my own). These DIY gold animal bookends offer flexibility of choice, from the type of animal you want to the color of paint you want on the brick. Check it out!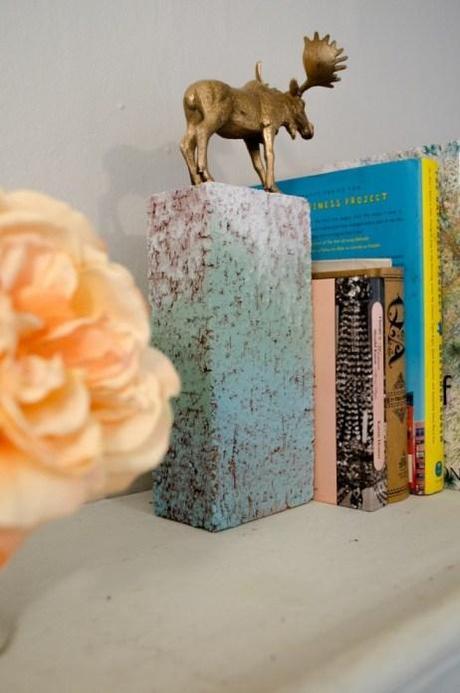 Photo by Jamie Lied
Another Bookend Idea
Here is another style of animal bookend that I loved! Once again, you have the flexibility to choose whatever your favorite animal is. I think giraffes or octopuses would look great too!
It may not be Christmas yet, but we're already counting down the days! It's never too early for new Christmas décor ideas! Here's an easy, cheap DIY wreath for your front door or inside on the wall.
Patterned Tray
Here's another take on a tray that we like. It can placed in the bathroom, on the coffee table, or in the kitchen! It has a lot of versatility!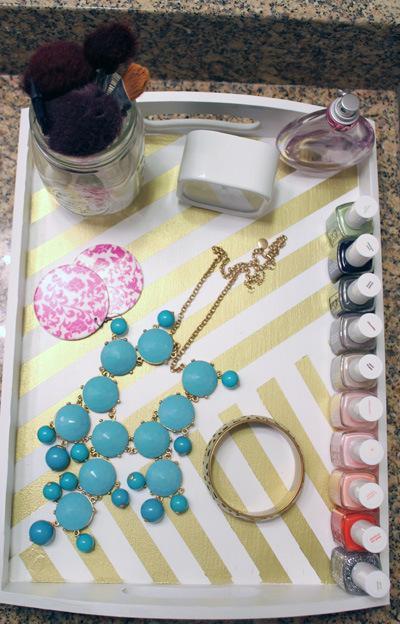 Photo by Holly Casto
Bunting is perfect when decorating a child's room, and this gold bunting made from plastic straws is a cheap, easy way to do it. I think this would look fabulous with a pink and gold color scheme for a little girl.
These giant gold scissors would look perfect adorning the wall in a craft room. If you don't want scissors, there are lots of other fun wooden cut-outs that make for great wall art. Find what suits you!
Mandi also found inspiration in the store, but refused to pay the price for a piece she knew she could recreate. This dish is modern, bold, and stylish.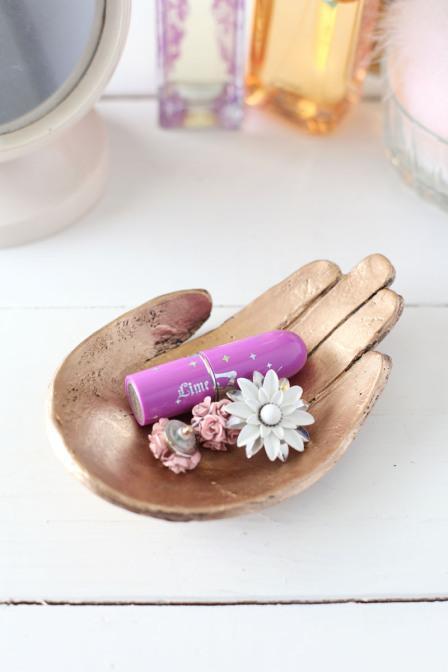 Photo from A Beautiful Mess
Wall Art
I love when a project offers versatility. In this craft, she uses a wienie dog, but you could pick anything! Whatever suits your style, this DIY is adaptable.
These hand painted mugs are a perfect gift. I love how stylish they are, and you can put whatever you want on them. Perfect for a wedding, birthday, or anniversary, these mugs can serve as a present for anyone celebrating anything! I like them so much, I might make one for myself!
Glitter and gold glorify these modest mason jars. If you love that country look, these are a great way to add some pizzazz to your kitchen table.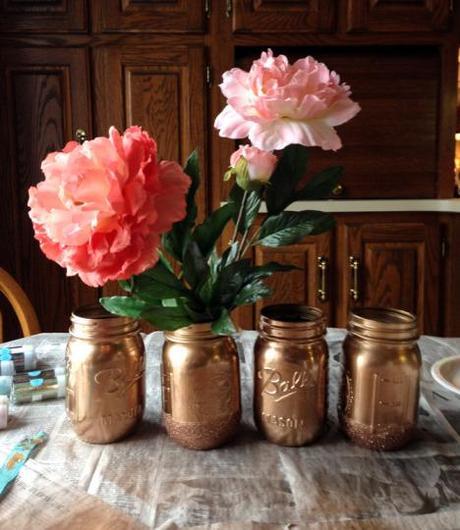 Photo from How Sweet It Is
I'm always looking for a good deal, and these boots are a perfect way to update a drab wardrobe. You can do this with plain flats too. It's simple, smart, and easy on the budget!
Ampersand Art
Push pin art? Who knew!? This is a fun project, and the tutorial is straight forward and simple. Pick any letter, punctuation mark, or number. It can all be done with tacks!
Garland is so great. It really doesn't matter where it is. This pine cone garland is ideal for Christmas or the country lovin' gal. It gives a distinct, outdoor feel, and it's easy to make.
Have you found any other fresh, DIY gold projects? Let us know in our comments section!
We've Been Gold Digging! 27 DIY Projects
by
Liz