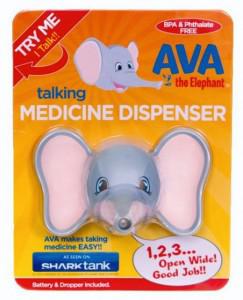 We were very kindly sent an Ava The Elephant medicine dispenser to review. By Just for Babies.
Our Views:
This is a fabulous invention, we love it. If like me your children refuse medicine from the spoon or your trying to use a syringe of some form like we do then this is just the thing for you.
The children were more than happy to sample water in Ava to test this product.
The elephant has the ability to take the annoyance of being given medicine away from the child as its friendly voice counts 1,2,3 Open Wide. It even says " Good Job".
It has been a good job as we have had 3 poorly babies these last few days, so this has become a favorite baby product of mine, because it works.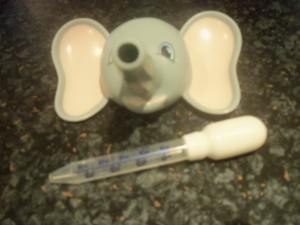 The included medicine dropper should be removed from the back and filled with the recommended dosage of liquid medicine. You will then insert the dropper back in. When the button is pressed Ava will say "One, Two, Three…Open wide! GOOD JOB!" During or after the counting you insert the trunk in the mouth and dispense the medicine.

 

Just for Babies are delighted to be able to bring to you Ava the Elephant, the elephant that makes dispensing medicine to little ones so much easier.

No parent or carer wants to have to battle to give any baby or child medicine.  Ava takes the battle away.  She's fun and interactive.  Just fill up the dropper with the required dose of medicine and insert it into the back of Ava, push the button on the back and Ava counts down, "1, 2 3 open wide….good job".  Just place in the child's mouth and squeeze the dropper until all medicine is dispensed, it really is that easy!

Doctors have this to say about Ava the Elephant "Improved Acceptance of medication leads to healthier kids and happier parents!  I highly recommend Ava the Elephant!" – Jill Overcash, MD.

 

Please note:
Ava is completely diswasher safe (top drawer only)
Batteries are included.
This is not a toy
Fill only with doctor recommended dosage
For use with liquid medication only.

 

To find out more about Ava visit Just for Babies

 
Even the bigger kids were happy to test it: