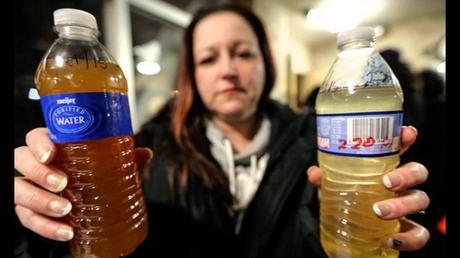 Flint's contaminated water.
Mainstream America just got a wake-up call about the importance of pushing back on environmental racism and it came from an unexpected source: Hillary Clinton's presidential campaign.
On February 25th, Clinton delivered a Super Tuesday speech to a mostly black crowd at the Woodside Church in Flint, Michigan. The speech was her second given in the city and the presidential hopeful took the opportunity to  frame the city's recent water crisis as a social justice issue. Clinton called Flint "a community that's been knocked down, but refused to be knocked out" and highlighted efforts of local unions and schools to obtain clean water for their neighbors. She also demanded $600 million from the federal government to solve the water crisis. Clinton added that "we've come too far in this country to let us turn back" and that "we're going to build on the progress that we've made," seemingly alluding to this nation's broader, problematic history of race relations and environmental policy.
But Clinton's less-than-impressive record of racial dialog rendered these words hollow to many. The candidate encountered indignation during her 2008 campaign when she said, "Obama's support among working, hardworking Americans, white Americans, is weakening again," implying his race rendered him out of touch with the supposed heart of America.She even called black youth "super-predators" during the War on Drugs and supported her husband's corresponding Crime Bill while he was president in the mid-1990's. Though Rebecca Traister correctly pointed out that Hillary did not vote on the Crime Bill or welfare reform herself, she did voice her approval of measures that arguably led to current, dire situations of mass-incarceration and black poverty.
This history makes her efforts in Flint somewhat ironic as these very situations are pressingly evident in Flint and undeniably contributed to this situation. The city used to pipe in its water from Detroit, but switched its water supply to the Flint River in 2014 to save funds due to Detroit's near-bankrupt status. Flint addressed warnings about bacteria in the water by adding increasing amounts of chlorine in an effort to neutralize its contaminants. Then residents began reporting high levels of lead in their water; the water was so corrosive it was stripping the metal out of old lead pipes. The effects of lead poisoning became apparent predominately in children in the city, who now suffer from slow cognition and behavioral struggles.
This is where the link between underserved communities and the environment is particularly illuminated. Flint is 56.6% African-American and 41.6% of its residents live below the poverty line. Public housing and other low-income housing sectors have a higher risk of having old lead pipes because they are often neglected for maintenance due to institutional racism, which regards these structures and the communities they house as unimportant. This reality was compounded by years of broader environmental disregard for the city's natural resources.
It's hardly unreasonable to surmise that issues like the school-to-prison pipeline or street violence are rooted in characterizing kids of color as uncontrollable — a characterization that may be rooted in behavior caused by lead poisoning. As Jamil Smith stated in the New Republic podcast "Intersection," it is clear that black poverty and white poverty look very different. People often forget that environmental justice is a major issue within poverty, especially as it intersects with race, and Flint has brought that to the fore.
Unsurprisingly, not everyone in the audience during Clinton's speech in Flint regarded her message well. As Calandra Palack, an organizer with the Flint Lives Matter arm of the Black Lives Matter movement, said "Don't jump on a cause just to get votes."
But some argue that Clinton's obvious efforts to win black voters in Flint is better than nothing. As New Republic contributing editor Michael Eric Dyson stated, Hillary Clinton's call for large-scale funding makes sense given that "the people whose backs are against the wall, whose water, essentially, is being poisoned, need the attention of the federal government." Because black voters have "been dissed, chided, dismissed, and criticized," in the past "some pandering might be a good thing," to address accusations that Clinton's speech was distasteful.
"Hillary Clinton is doing what we think politicians ought to do: shine a spotlight on arenas that deserve consideration and attention, that have not historically received them," he concluded.
Whether a new president will mobilize resources to actually address widespread problems of environmental racism in the future remains to be seen. But hopefully, no matter how problematic her efforts may be, Clinton will spark this nation to take this dire issue more seriously in the future.