. . . for FOTM's 79th Caption Contest!
The caption submissions were exceptionally good for this contest, said at least two of the judges! Happily, we do have a clear winner.
All the FOTM writers dutifully voted, each for his/her #1 and #2 captions. Each #1 vote is worth 3 points; every #2 vote is worth 2 points.
And the winner of the 79th world-famous FOTM Caption Contest, with one #1 vote and four #2 votes, totaling 11 points, is . . . .
Christy!!! 

Here's her winning caption: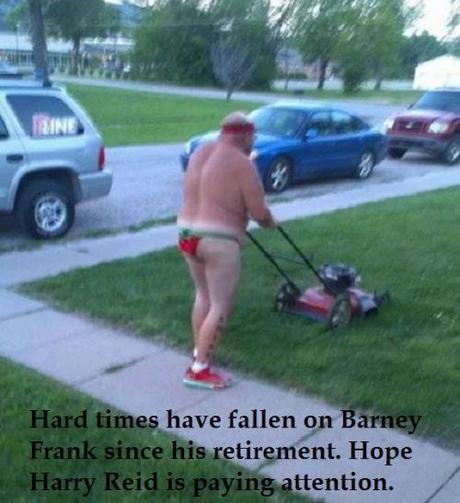 Dean Garrison, a good friend of FOTM and owner of the wildly popular The D.C. Clothesline, is in 2nd place, with two #2 votes, totaling 6 points. Here's his caption:
Rob Ford excels in rehab. He is now mowing grass instead of smoking it.
One of creatively prolific Sig94's captions is in 3rd place, with two #2 votes, totaling 4 points:
Ever since the elves were deported by the DHS, Santa is forced to pick up reindeer crap and mow the lawn at his Virginia Beach townhouse all by himself.
In 4th place are K M Meyers, Paul H. Lemmen, renov8, and another Sig94 caption, each with one #1 vote, totaling 3 points each. Here are their respective captions:
Men's fashion rule #4. Always match your thong with your shoes.

Jim mows the grass, as mandated by his wife, wearing what she found in the glovebox and Jim proclaimed is what all the cool guys are wearing …

Grass, grass, grass….and a wedgie in my ass, ass, ass.

Losing her bet to Huma, Hillary Clinton makes good her pledge to mow Eric Holder's front lawn, topless.
SNIPPY is in 5th place, with one #2 vote, totaling 2 points. Here's the caption:
For only an extra $7.99 the New gay male maid service mows your lawn after they spank you and eat all your GMOs…
Well done, everyone!
Congratulations to Christy!
Here is your fancy-schmancy Award Certificate of Great Excellence, all ready for framing! LOL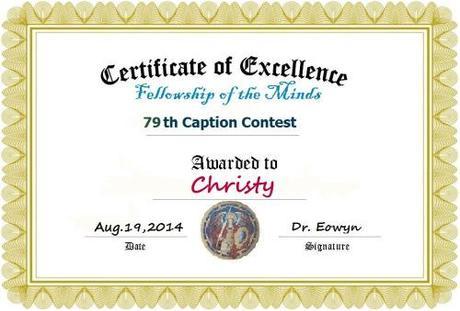 For all the other caption submissions, click here.
Be here later this morning for our next very exciting Caption Contest!
Seen any good pics that you think would be great for our Caption Contest? Email them to us! 

~Eowyn