. . . for FOTM's 71st Caption Contest!
This was a difficult contest for the judges because there were many really good captions.
But the FOTM writers dutifully voted, each for his/her #1 and #2 captions. Each #1 vote is worth 3 points; every #2 vote is worth 2 points.
And it's a tie!
The winners of the 71st world-famous FOTM Caption Contest, each with votes totaling 6 points, are . . . .
Ken Watterson and pookiedr!!!
Ken received three #2 votes, totaling 6 points; pookiedr received two #1 votes, also totaling 6 points. Here are their respective winning captions: Ken's is in red, at the top; pookiedr's is in yellow, below.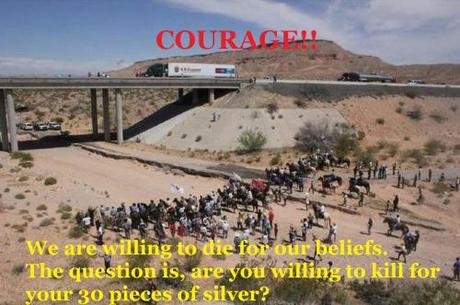 hujonwi is our 2nd place runner-up, with one #1 vote and one #2 vote, totaling 5 points. Here is his caption:
300… the movie…
Jules is in 3rd place, with two #2 votes, totaling 4 points. Here is the caption;
"Stand-off and show-down of the semi-finals American Clark County cooking demonstrations of Reid solar panel fried tortoises and Bundy charcoal barbecue beef."
In 4th place are Truckjunkie and three of Sig94's captions, each with one #1 vote, for a total of 3 points each. Here are the respective captions:
Mister-you picked the WRONG reason to be here,the WRONG man to screw with,and the WRONG time and place to screw with him. You'll be leavin' now…

Despite a hefty cover charge, folks came from miles around to watch Ludmilla, the pole dancing desert tortoise.

Opening day of the Race to Castrate Harry Reid.

"Come and listen to a story 'bout a man named Reid
A lying politician known for corruption and greed
Then one day he figured how to steal
A whole buncha land through another rotten deal.

Blame the land tortoises, turtles need solar power too

Well the first thing you know there's suits and counterclaims
Reid's getting ballsy like he thinks he's Jesse James
The steers are almost gone, it'll be all over by next Monday
When he pisses off a rancher by the name of Cliven Bundy

Hard ass, eats nails, spits tacks

So Reid sends in his boys and there's snipers on the hills
People gettin' tasered so the cops can get their thrills
But ole Cliven and his ranch has been there for near forever
So he calls for help – hey – ain't that mighty clever

OK … I was reaching on that last rhyme, so sue me

A lot of patriotic folks are so mad that they're steamin'
They travel many miles to give the BLM a reamin'
There's threats all around but cooler heads prevail
And those BLM boys, well now they're settin' sail

Back to Bullshitland, mind ya don't bother comin' back now, ya hear?"
Kelly is in 5th place, with one #2 vote and 2 points. Here is her caption:
It only takes 'ONE' to make a change-it's a bonus when you have friends who believe and stand beside you!
Well done, everyone!
Congratulations to Ken Watterson and pookiedr!
Here are your fancy-schmancy Award Certificates of Great Excellence, all ready for framing! LOL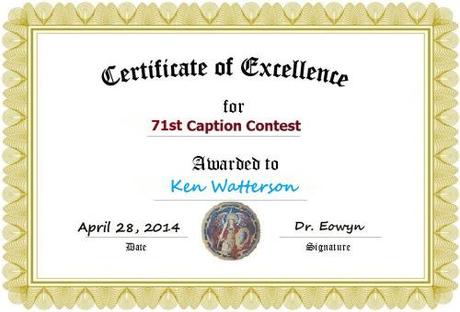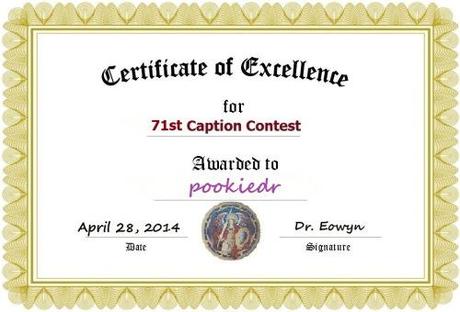 For all the other caption submissions, click here.
Be here tomorrow for our next very exciting Caption Contest!
Seen any good pics that you think would be great for our Caption Contest? Email them to us! 

fellowshipminds@gmail.com
~Eowyn