This was the pic of FOTM's 40th Caption Contest: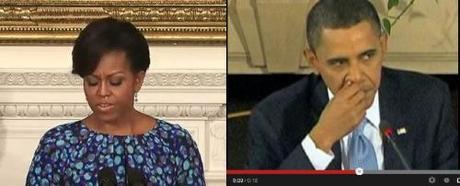 Click image to enlarge!
On the left is a closeup of the screenshot I took of the shiny snot dribbling from the First Lady's left nostril at the 14:20 mark in this White House video of a speech she gave on February 28, 2011, at the National Governors Association Meeting. (See my post "First Lady of Snot," Feb. 1, 2013.)
On the right is a screenshot I took at the 0:18 mark of the President of the United States of America shoving his right thumb up his right nostril on live T.V. (Click here for the YouTube video.)
The FOTM writers have voted, each for his/her #1 and #2 captions. Each #1 vote is worth 3 points; each #2 vote is worth 2 points.
And the winner, with one #1 vote and two #2 votes, totaling 7 points is….
Michael Inman!!!!
Here's his winning caption:
"I know there is another 'Executive Order' up here somewhere…."
The 2nd place runner-up, with one #1 vote and one #2 vote, totaling 5 points is gysgt1. Here's his caption:
Thought Bubbles
Her: Where's his damn thumb when I need it?
Him: "KEEP BRAINS INSIDE…KEEP BRAINS INSIDE…"
Close behind gysgt1 in 3rd place is jedward1000, with two #2 votes, totaling 4 points:
"America. You sure can pick 'em"
1wanderingtruthseeker and sig94's two captions are all in 4th place, each with one #1 vote, totaling 3 points each.
ferretur is in 5th place, with one #2 vote, totaling 2 points.
Congratulations, Michael Inman! Here's your super-duper one-of-a-kind hand-scribbled (by moi) Award Certificate of Great Excellence!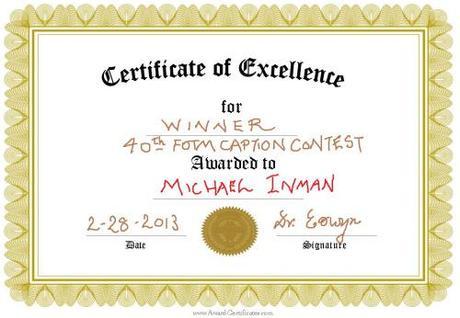 For all the caption submissions, go here!
Be here tomorrow for our next Caption Contest!

~Eowyn