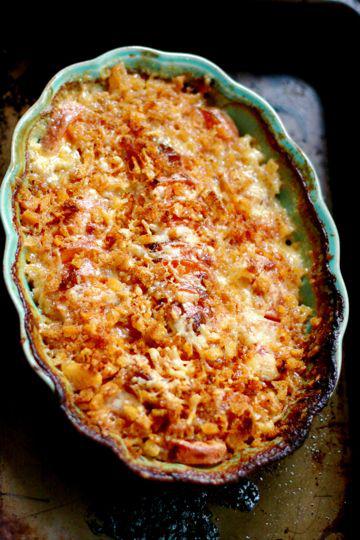 Last night I made sweet potato gratin with smokey bread crumbs following this recipe from The Kitchn.
I used dried herbs instead of fresh- effectively reducing the cost of the recipe because fresh sage is a bit pricey. As a result, I didn't remove the herbs from the cream.
(Photo courtesy of The Kitchn.)
We added some apple smoked bacon to the topping and I used a little of the grease left over from frying the bacon to toast up my course bread crumbs in the pan instead of the recommended butter.
By heating the sweet potatoes up slowly as the recipe directs, it allowed the potatoes to become very sweet but absorb the herbed cream creating a very sweet and savory dish.
This was an excellent and easy to follow recipe. Everyone in my house deemed it a winner- even the sweet potato hater among us.
Sweet Potato Gratin with Smokey Breadcrumbs Recipe (bookmark this one because I know you'll be coming back to it!