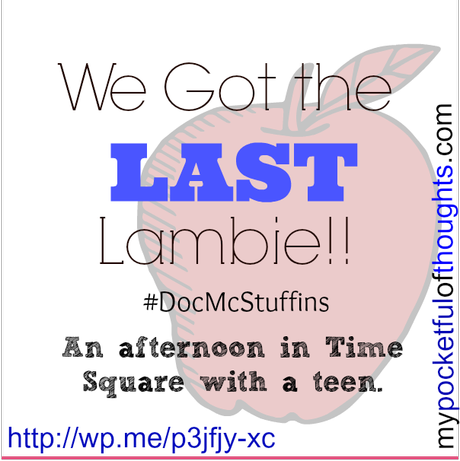 Times Square was the place to be on Wednesday because of the Doc McStuffins Mobile Tour. Did you go? The tour focused on showing children the many ways you can take care of yourself with activities and fun take homes. My niece and I are HUGE fans of the Disney Junior cartoon. The minute we heard of the tour we knew we had to go!
Are you or your child fans of Doc Mcstuffins or one of the other loving characters?
Here is our afternoon in Time Square and our adventure to see Doc and the crew: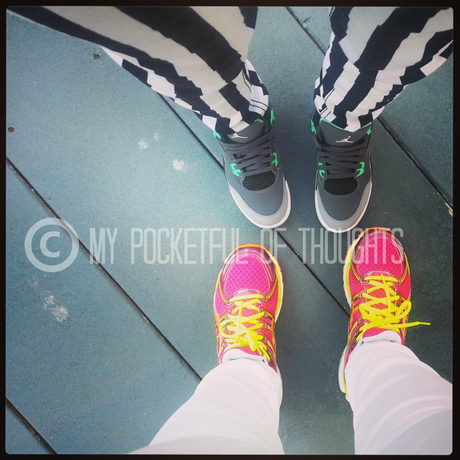 We got to the train station a little before 9 am. We were ready to face the day and break in our new sneakers.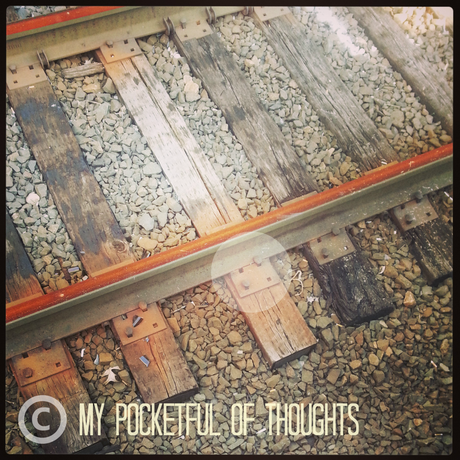 Glancing over the rail …
My Niece: Why don't they use four nails?
Me: What? Four nails?
My Niece: Yeah each plank only has two nails and not four.
Our eyes met.
Me: Hmm, maybe that's why the train went off the track.
My Niece: What?!!!
Me: Yeah in June, a train went off the track …maybe they should use four screws instead of two on each plank.
My Niece: A train went off the track?!!!
Me: looking at the approaching train …oh look a new train. YAY
Luckily this conversation did not stop us from going to New York.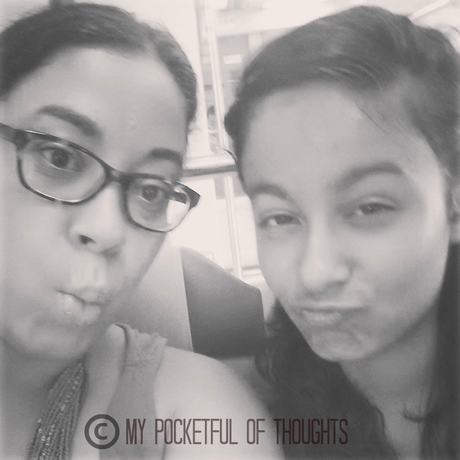 We made funny faces on the train ride in. This one is my favorite. You can see our other faces on Instagram. We rode on one of the newer trains on the Metro North New Haven line. If you ever take a ride remember to bring your jacket. We were freezing!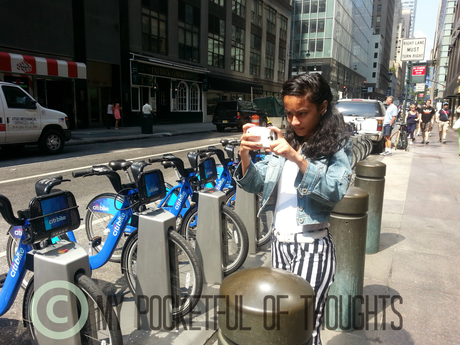 We stopped at Irving Farms in the food court of Grand Central and had a delicious breakfast. As we headed out Ariana stopped to take pictures of the main room of the train station. She was in awe. "Aren't you going to take pictures?", she asked. I guess she didn't catch my post where I attended a Photography class with Daniel a few years back. After her photo shoot we hit the streets of New York and she loved the CitiBikes available for use. I haven't ridden a bike in over twenty years. I know what you're thinking. Riding a bike in NYC and having to compete with the cars, taxis AND buses was not going to be my first time getting back on.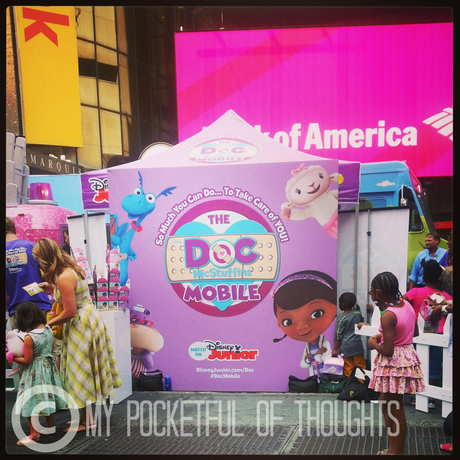 We ran into the Disney Store in search of the Doc Mctuffins Mobile Station and got pointed to the crowd across the street. As we made our way we scanned the LONG line but decided to try and wait it out. The lovely lady in front of us let us know that the line was closed due to the three hour waiting time. Hearing this, a little girl in front of us began to cry and her mom pleaded with the woman to try to see the station for her daughter's sake. My niece volunteered to put on the water works but I didn't think we'd stand a chance. If you're a Doc McStuffins fan check out the website to see if the tour is coming to a town near you!
While we didn't get to enjoy the festivities of the mobile tour we did score at the Disney Store.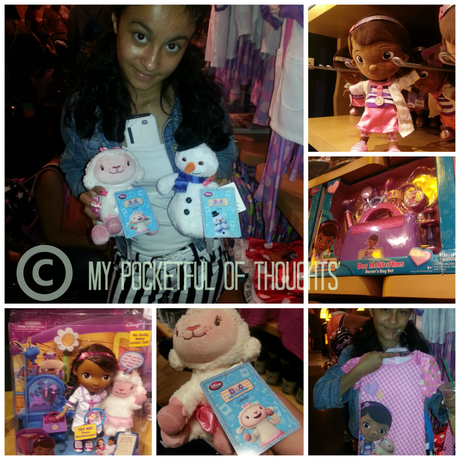 After letting the woman greeter at the Disney Store know that they were turning people away for the Doc McStuffins Moble Station, we hurried towards the stuffed animal display in search of Lambie, our favorite character. There was Stuffy, Chilly, and Hallie …. No Lambie! We then ran walked quickly towards the escalator leading to the second floor. We ran over to the wall display, I reached up on my tip toes, put out my hand and GRABBED THE LAST LAMBIE!! It made our trip out to NY for the day worth it. Don't judge us until you've seen the show. We were thinking about getting the Doc but it didn't really look like her.

We also found some great potential Christmas gifts!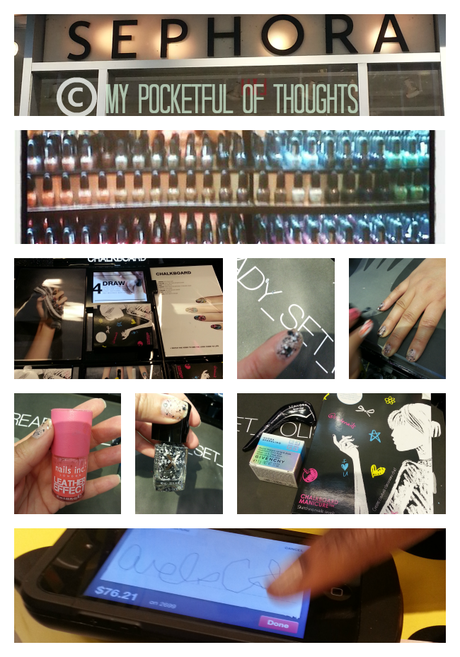 We had a blast at the Sephora in Time Square! I got a recommendation on some hydrating lip treatment, found a new eye liner to try out and got a fun Chalkboard nail polish kit. We also LOVED the nail polish stations. Each of the nail polish stations gave step by step instructions on how to get the latest nail fashion trends. All of them looked too complicated to do on my own until we found this top coat that looked like effortless fun. The Sephora Chaotic top coat looks like a painters masterpiece. It was just my luck though that the product was sold out and no longer available online.  What's your favorite nail trend? My luck turned around when we went to get in the LONG line and a thoughtful lady came up to us and asked if we were ready to be checked out through the store's Iphone App. How cool is that?
Then we headed over to Walgreens for some much needed agua before hitting up the Loft where we shot this video! Tell my niece what you think in the comments of the youtube video.
Our adventure to Time Square tired my niece out! Isn't she precious!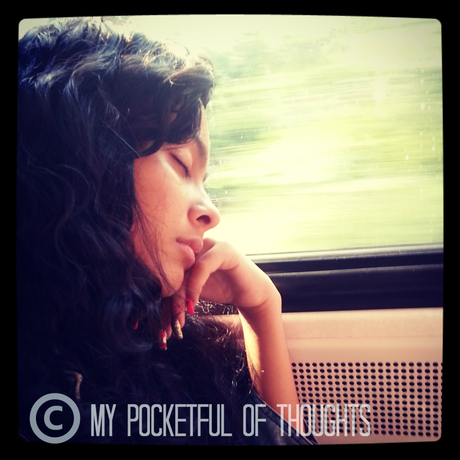 What do you like to do in Time Square?
Until then,

PS: New episodes of Doc McStuffins start up next month! YAY