As I prepare to become a student in September for three long years, I've been looking at all the travel options out there for students. From opportunities only available to students to jobs that fit perfectly with the summer break. What worries me about becoming a student is having to live in the same place for three years but I'll be so busy to even worry about that once term rolls around. So what I really need to think about is changing how I travel because I won't just be able to get another job to save nor will I be able to go off for months at a time when it suits me. I thought I would share my findings with you and hopefully inspire more students to travel. If you have any more ideas then please leave me a comment below.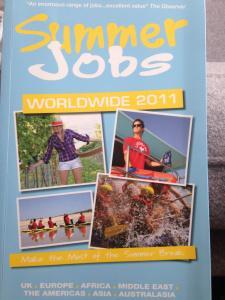 A great book resource for finding summer jobs – I got the idea of Camp from here but it is full of different options.
Camp Counsellor in America
The main companies for booking this are: CAMP AMERICA and BUNAC. This program is actually something I took part in during summer 2011 and fits perfectly with the summer break from university. Not only that but the whole thing only costs around £500 as flights are included by the camp and better still you actually get paid! All summer you will spend your days sleeping in a cabin full of crazy but lovely children, teaching an activity of your choice and making some of the best friends with your co-counsellors. After camp the J-1 exchange visa then gives you a change to travel some of America on the money you made at camp.
Related Post: A typical day at Camp Ameria
Teaching Internship
Once you have obtained a TEFL qualification there are many countries you can teach/intern in without having a degree. BUNAC are running a teaching internships to several of these countries some for two months, which fits perfectly with the summer break from university and is a benefit to anyone like me doing a teaching subject. The price varies from place to place but starts at £750 before paying the extras for flights, insurance, food etc. so it is a little bit pricier however something which could give you amazing rewards and valuable experience.
Work America
Another BUNAC run program which offers an opportunity to students only to work in America for the summer. They will help you sort a job from all different industries to either boost your CV for after university or to gain valuable work experience in your degree field. Knowing how difficult it is to be able to bag a working visa for the States this really is a brilliant opportunity for anyone who would like to experience living and working in America. Like being a Camp Counsellor the cost is around £500 however you have to pay for your own flights on top.
Summer Season
This is along the same lines as a winter season but doesn't clash with university. Like a winter season people need staff to work on their summer resort especially during the busy months of June – September. You could be working in Europe behind a bar or in the kids club for the summer. From all I've read about this option is definitely a work hard, play harder kind of vibe with lots of partying going on for the staff as well as the holiday makers. Club Med seems to be the biggest recruiter however I'm sure there are many more.
You don't even have to go abroad to do a summer season, plenty of festivals look for students to work in the food trucks or similar.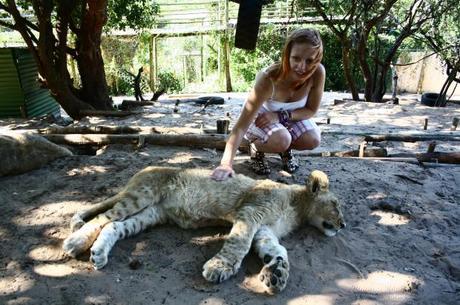 A Day Off From Volunteering In South Africa
Volunteer
Volunteering is the first traveling I did and it is one of the most rewarding experiences however it is very pricey! I paid £2000 for just flights and the program so as a student this would probably be out of the budget unless of course you don't eat and spent an entire terms student loan on it….which I can certainly imagine myself considering. Again BUNAC run lots of volunteer programs but I would also recommend Real Gap a company  have used previously.
Work Exchange
I recently stumbled upon Workaway a site that links volunteer and host together. The hosts offers food and accommodation in exchange for the volunteering working for them – jobs are hugely varied and from what I've read if you have manual skills it will work out a lot better. Apart from the transport getting there and back the whole thing is free, there is no minimum or maximum time you can stay – it is completely host dependent – so you could slot this in during any of the holidays while at university. I would highly suggest this if you are studying a language!
Related Posts: Workaway and Helpx: Would I travel with work exchanges again?

Use Your Student Status
Being a student means you get discount on nearly everything from museum entry to flight prices – make sure you work that student discount to the max! Sites like STA travel exist primarily for students and have great deals on all year round. It is certainly worth signing up for the newsletter if you haven't already so you can see their weekly deals in your inbox. They offer most of the above options in some form on their website but do shop around for prices.
Choose A Cheap Country
Visiting a country like Australia is going to be completely out of the question for a student budget but if you pick a cheaper county like Cambodia or India or Peru your daily budget and air fare will be much cheaper. You may even be able to afford a month traveling that country with the remainder of your student loan.
Related Post: Top 10 cheap countries for student travel
Other links I found useful
University travel: 10 ways students can globe-trot for free
Travelling on a student budget
Have you traveled as a student? How did you fund it and where did you go?