1 Flares
Twitter
1
">
Facebook
0
Google+
0
">
LinkedIn
0
">
StumbleUpon
0
">
Filament.io
Made with Flare

More Info

">
1 Flares
×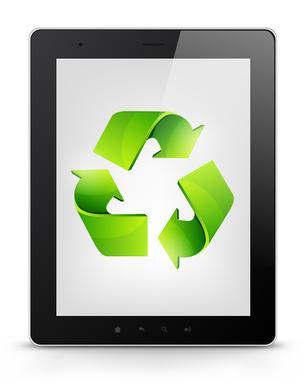 A growing number of small businesses and corporate enterprises already see the 'Bring Your Own Device' phenomenon as a cost-saver and productivity booster. Not only do employees gain a global average of 37 minutes of productive time per week, companies also save an average of $1,650 per employee if they choose to implement a more comprehensive BYOD program. But the biggest impact of all is on the environment.
BYOD is also about making your enterprise green through environmentally conscious actions that ultimately benefit your workforce, as well as your bottom line.
BYOD Reduces Energy Consumption
Tablets, laptops and other mobile devices trump the average desktop PC when it comes to overall energy savings. According to the Natural Resources Defense Council (NRDC), a 10-year-old computer uses 10 times more energy than a new Energy Star laptop. Switching from a desktop to a notebook can cut energy consumption by up to 80 percent and further gains can be realized by switching to tablets and other low-power devices. In the end, the organization will not only save money on energy costs, but also improve its green cred.
BYOD Removes Duplicate Devices
Most employees have gotten used to juggling multiple work devices in addition to their own personal devices. With the'Bring Your Own Device' movement, employees have an opportunity to consolidate the devices they use outside of the office and, with the help of mobile device management software such as BlackBerry Enterprise Service 10, use the devices they already own.
It takes silicon, petroleum, various metals and other materials to create today's electronics. The NRDC notes that more than 500 pounds of fossil fuels, along with 1.5 tons of water and 50 pounds of chemicals are consumed in the production of an average desktop computer. Eliminating duplicate devices also eliminates the need for additional resources to produce mobile devices.
BYOD Promotes Recycling Efforts
Your organization's BYOD efforts can be linked into a greater recycling effort. A strong BYOD policy can also include a recycling program that either encourages or requires employees to recycle their personal devices instead of simply discarding them. This can help cultivate good recycling habits while shrinking your organization's own carbon footprint through good environmental stewardship.
Recycling used electronics not only lessens their impact on the environment, but also offers countless opportunities for alternative energy production. According to the Environmental Protection Agency (EPA), recycling a single laptop can provide enough energy to power the average home for a day and a half. If more than a million laptops are recycled, it could provide over 3,600 homes with enough electricity for an entire year.
1 Flares
Twitter
1
">
Facebook
0
Google+
0
">
LinkedIn
0
">
StumbleUpon
0
">
Filament.io
Made with Flare

More Info

">
1 Flares
×

Ben is the founder and editor of TechDrink. A huge fan of technology and social media, he has been blogging on those and many other subjects for well over five years. You can follow him in many places, including
Twitter
,
Facebook
and
Google+
.

Latest posts by Ben Greenwood
(see all)
Ways BYOD Can Help You Go Green

- December 6, 2013

Santa Tracker – Google or Microsoft?

- December 3, 2013

5 Great Websites & Apps Making Personal Finance Simple

- November 27, 2013