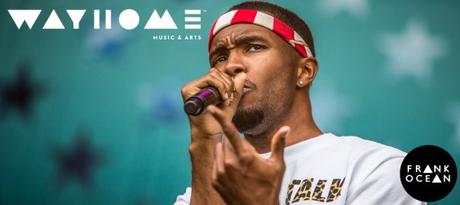 With WayHome 2017 getting closer and closer, our preparation and excitement continues to grow and grow. And one of the acts that we're most excited to see is Frank Ocean, who will headline the main stage on Sunday, July 30.
Ocean is a main event performer, he's a connector of music fans and communities. And he's talented as all get out. So, to have the chance to see him this summer is something that we do not plan on taking for granted.
And, to get ourselves ready to fall into the moment, be swept away by the show, and truly experience all that comes to us that night... we're listening to our Frank Ocean Top 10.
Hit play 1 at a time, or pick your favourite and run it on repeat. And if we missed a track that you think belongs on the list, leave a comment to tell us.
Enjoy!
Frank Ocean Top 10
Thinkin Bout You
Pink + White
Biking ft. JAY-Z & Tyler, The Creator
Novacane
Ivy
Swim Good
Lens
Pyramids
Nights
Nikes
Passes are available for WayHome, including single day passes, if you click right here.

About Joshua Murray
creator of content, manager of community, writer, tweeter, coffee drinker. sports, comics, movies, food, music & pop culture geek. Proud MoBro. View all posts by Joshua Murray