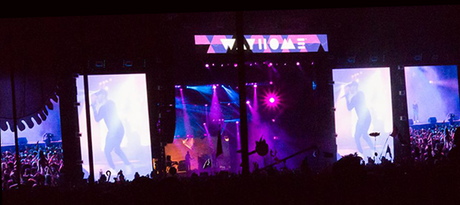 Awesome, Arkells, Burls Creek Event Park, Chvrches, Gary Clark Jr, LCD Soundsytem, lineup, Mac DeMarco, Metric, Nathaniel Rateliff, Rae Sremmurd, Third Eye Blind, wayhome, WayHome Festival, Wolf Parade Entertainment, Music
If you're like us, you've been waiting for this... the WayHome daily lineups are here!
The day-by-day breakdowns should help get your planning started, and the stage assignments and set times should be coming soon!
The countdown is on, WayHome is coming!
Thursday, July 21, 2016
ARTWALK - 2016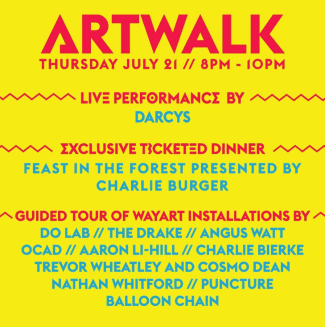 Camping starts on Thursday and we're suggesting you take advantage of it!
Thursday night's Artwalk goes from 8pm to 10pm and will offer a look at all of the awesome installations that will be on the grounds during the WayHome festival in 2016.
Changing things up a little this year, there will be an added musical component to the Artwalk with Toronto's very own Darcy's performing on the WayAway stage at 9pm.
Festival-goers can check out the amazing installations by DoLaB, Angus Watt, OCAD contest winners Team Cloud, Aaron Li-Hill, Charles Bierk, Trevor Wheatley and Cosmo Dean, Nathan Whitford, Puncture, Balloon Chain and in the VIP you'll see artists curated by The Drake that include; ‪Lady AIKO, BirdO, ‪Jimmy Chiale, ‪Diana Lynn VanderMeulen,‪ Videomancy, ‪Peter Rahul and Alex McLeod.
For more details... follow this link!
Friday, July 22, 2016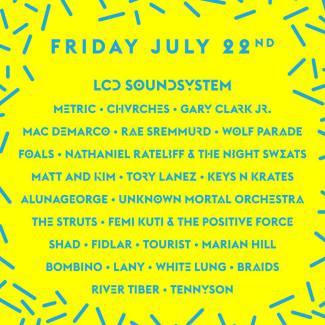 ★ LCD SOUNDSYSTEM
★ METRIC
★ CHVRCHES
★ GARY CLARK JR.
★ MAC DEMARCO
★ RAE SREMMURD
★ WOLF PARADE
★ FOALS
★ NATHANIEL RATELIFF & THE NIGHT SWEATS
★ MATT AND KIM
★ TORY LANEZ
★ KEYS N KRATES
★ ALUNAGEORGE
★ UNKNOWN MORTAL ORCHESTRA
★ THE STRUTS
★ FEMI KUTI & THE POSITIVE FORCE
★ SHAD
★ FIDLAR
★ TOURIST
★ MARIAN HILL
★ BOMBINO
★ LANY
★ WHITE LUNG
★ BRAIDS
★ RIVER TIBER
★ TENNYSON
This is a ridiculous lineup and I'm not sure how we're going to choose. We'll have to wait until the set times are posted to make our final decisions!
Saturday, July 23, 2016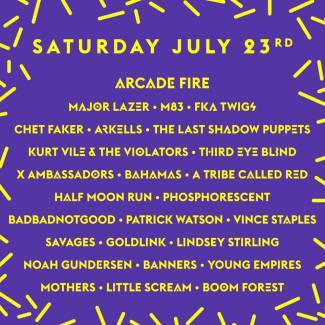 ★ ARCADE FIRE
★ MAJOR LAZER
★ M83
★ FKA TWIGS
★ CHET FAKER
★ ARKELLS
★ THE LAST SHADOW PUPPETS
★ KURT VILE & THE VIOLATORS
★ THIRD EYE BLIND
★ X AMBASSADORS
★ BAHAMAS
★ A TRIBE CALLED RED
★ HALF MOON RUN
★ PHOSPHORESCENT
★ BADBADNOTGOOD
★ PATRICK WATSON
★ VINCE STAPLES
★ SAVAGES
★ GOLDLINK
★ LINDSEY STIRLING
★ NOAH GUNDERSEN
★ BANNERS
★ YOUNG EMPIRES
★ MOTHERS
★ LITTLE SCREAM
★ BOOM FOREST
We'll definitely be making Arcade Fire a top priority but there are other acts on this list that we've seen before and can't wait to see again. A Tribe Called Red put on a great set recently at The Mod Club, Young Empires are always full of energy and we're working on our Q&A with Third Eye Blind, we kinda really like them.
Sunday, July 24, 2016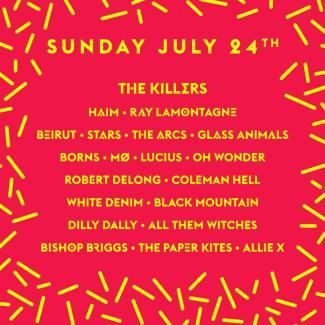 ★ THE KILLERS
★ HAIM
★ RAY LAMONTAGNE
★ BEIRUT
★ STARS
★ THE ARCS
★ GLASS ANIMALS
★ BORNS
★ MØ
★ LUCIUS
★ OH WONDER
★ REOBERT DELONG
★ COLEMAN HELL
★ WHITE DENIM
★ BLACK MOUNTAIN
★ DILLY DALLY
★ ALL THEM WITCHES
★ BISHOP BRIGGS
★ THE PAPER KITES
★ ALLIE X
The final day of the festival will offer some great acts that we're super excited about. Coleman Hell is having a hell of a year and we'll be front and centre for that set. All Them Witches, out of Nashville are on our radar and we'd be lying if we didn't tell you we have been waiting to see The Killers for what seems like forever!