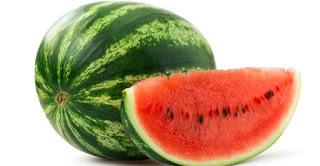 The first time I ate watermelon I was astonished to find it so cool, refreshing and thirst-quenching. I was in my late twenties at a motorway service station somewhere in middle England, a welcome break on a tedious homeward journey of delays then slow moving traffic. The afternoon was hot, the car was stuffy, my companion was moody and I longed to be home alone. I hated those pointless business trips. As usual, it could all have been discussed over the phone instead of dragging people from offices as far away as Whitehaven to a soulless Holiday Inn in Swiss Cottage. Sucking the watermelon helped cheer me. Juicy watermelon, chilled and delicately delicious, in triangular slices like I gave to my children years later, my grandchildren nowadays and I was an adult before my first taste.
Anyone who has endured chemotherapy will acknowledge the effect it can have on the whole body and mind. We are all different in how we react and the prescription is tailored specifically to an individual. One thing that was common between me and fellow patients was lack of appetite on good days, nausea on bad days and sore mouth ulcers all of the time which made eating very painful. Most of us relied on pineapple, honeydew melon and watermelon. All were manageable, soothing and easy to digest. I still enjoy all three, though watermelon is my favorite. I've promised myself to buy a whole one and have a go at decorative carving.
I missed out on 'making a shark from a watermelon' last year. Well, I think I missed out. The tutorial was advertised on our list of possible activities when we had an all-inclusive mini-break last summer, but it seemed not to be included during our stay. I'm keen to do it, so I'll try. I can still eat it, however much mess I make.   I found this poem,  
Reflections on a Gift of Watermelon Pickle Received from a Friend Called Felicity
During that summer
When unicorns were still possible;
When the purpose of knees
Was to be skinned;
When shiny horse chestnuts
  (Hollowed out
  Fitted with straws
  Crammed with tobacco
  Stolen from butts
  In family ashtrays)
Were puffed in green lizard silence
While straddling thick branches
Far above and away
From the softening effects
Of civilization;
During that summer--
Which may never have been at all;
But which has become more real
Than the one that was--
Watermelons ruled.
Thick imperial slices
Melting frigidly on sun-parched tongues
Dribbling from chins;
Leaving the best part,
The black bullet seeds,
To be spit out in rapid fire
Against the wall
Against the wind
Against each other;
And when the ammunition was spent,
There was always another bite:
It was a summer of limitless bites,
Of hungers quickly felt
And quickly forgotten
With the next careless gorging.
The bites are fewer now.
Each one is savored lingeringly,
Swallowed reluctantly.
But in a jar put up by Felicity,
The summer which maybe never was
Has been captured and preserved.
And when we unscrew the lid
And slice off a piece
And let it linger on our tongue:
Unicorns become possible again.
John Tobias
Thanks for reading, Pam x
Email This
BlogThis!
Share to Twitter
Share to Facebook
Reactions: