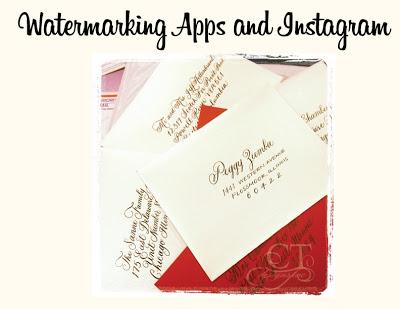 I was in the process of hitting a wall in terms of posting fresh content for this blog, but then I got to thinking about Instagram and the recent controversy stirred up by Facebook. Facebook has decided to change the legalese on their terms of use, using some vague language that appears to  allow for FB to have ownership (as well as rights to sell) any intellectual property shared on Instagram. I thought now would be a good time to discuss considering watermarks for your work. That is if you are interested in hanging around... 
I'm personally new to Instagram and would like to stay. My work requires me to spend hours and hours behind closed doors working and Instagram is a great tool to let clients and potential clients inside my private little world of calligraphy, art, ink and my obsession with my newly natural hair!
What is a watermark?
A watermark can be your company logo or your name, (strategically) inserted somewhere on the photo. You can upload your logo from your camera roll on the iPhone and just insert it before publishing it on Instagram.
Now obviously, this would have to be a fabulous photo of some kind. I truly think these new rules are going to affect a smaller percentage of professional photographers (landscape especially) that I have seen more so than "average" Instagram sharers. A picture of my latest natural hair style in while standing in front of a mirror? Don't think folks will exactly trip over themselves to purchase that shot. But, you never know right? 
iWatermark
U.S. $0.99 / Download
Very nice app... Easy to change the size of your watermark and you can also control the opacity of it so that its not too intrusive.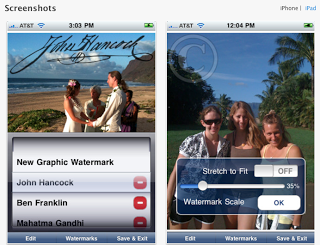 iWatermark
Impression
U.S. $1.99 / Download
Impression is nice... You can actually type in wording vs. fussing with images. Love this app!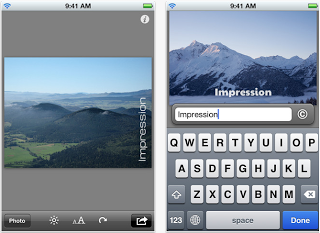 Impression
Secure Your Logo
I went ahead and emailed my logo to myself and saved it to my camera roll... Easy to access from there.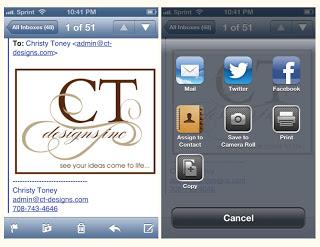 Screenshots showing my email interface and subsequent saving to camera roll location
Let me know if there are other apps out there that are easy to use for watermarking your photos~
Thanks,
--ct