I made these 2 paintings many years ago, when I was studying watercolor technique in art school. They've been in my private collection for about 13 years–and soon they're going to be for sale for the first time ever, a special addition to the sale I'm throwing this summer!
My work has clearly diverged from this style, subject matter, and medium in the years since–you can tell I painted them in an academic setting by the assigned subject matter–an arranged still life, and one of many odd pieces of mannequins from the cupboards of the school's art studio, meant to give art students practice depicting the figure.
For the still life, "Glass," I remember when I was setting it up that I chose these particular objects from my kitchen to explore the refraction of light–painting glass was a huge challenge but so satisfying to capture it effectively! I particularly love that vivid orange, yellow and green reflection on the right side of the wine glass!
I still have the unique crystal bowl on the left–right now, it sits on my counter where I frequently admire the beautiful refracted light and shadows it casts in sunlight across the countertop. It is my official lemon bowl. (And with a lemon tree in my yard, I currently always have lemons on hand, so it gets good use.)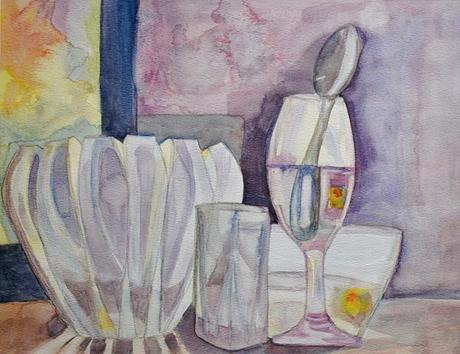 Glass. 11″ x 14″, Watercolor on Paper, © Cedar Lee 2014
The figure painting, "Nude Statue," was created in my university classroom. It was a sunny, lofty room full of easels and quiet students deep in focus. I remember thinking it was a bit creepy to paint a headless, armless woman, but the result is indeed beautiful. Ultimately it was a lesson in light, form, and color. I used only the primaries–red, yellow, and blue, along with the white of the paper, to create every nuance of color here.  My color mixing skills today are much more sophisticated–despite that, I think this turned out lovely.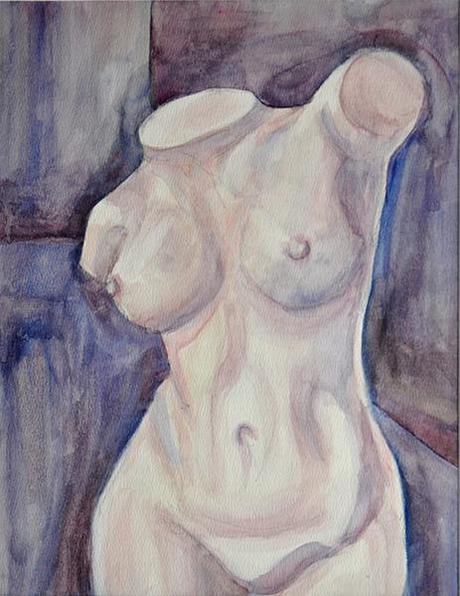 Nude Statue. 14″ x 11″, Watercolor on Paper, © Cedar Lee 2014
Both paintings will be matted, with the option of the new owners framing them or not, as they choose. They are 11″ x 14″ on their own, and matted, they are 16″ x 20″. They look like this: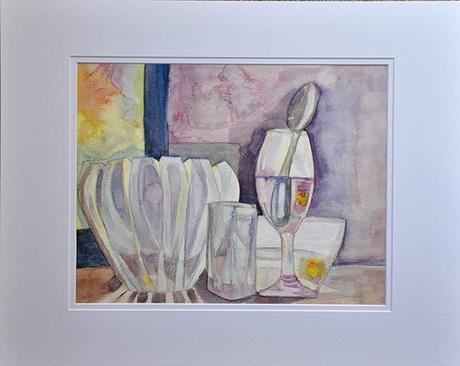 Glass. 11″ x 14″, Watercolor on Paper, © Cedar Lee 2014. 16″ x 20″ matted.
Nude Statue. 14″ x 11″, Watercolor on Paper, © Cedar Lee 2014. 20″ x 16″ matted.