You know who to call when it comes to awesome slingshot weapons. Yes, that's right Joerg Sprave is the perfect guy for your team in the zombie apocalypse as he makes the coolest weapons using rubber bands.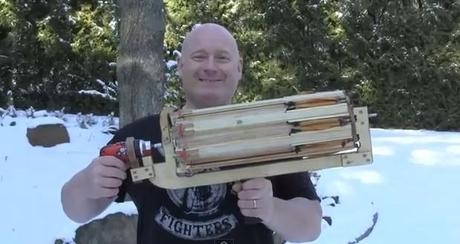 This time he has made a badass full-auto slingshot gun that shoots pistol crossbow bolts, with eight inline barrels, enough to kill several zombies at once without having to load arrows each time.  Check out the video after the jump to see it in action.
Want one?  I know, you are drooling over this. Well, you're in luck, because Joerg has been kind enough to share a document that explains how to make one of these miniguns. Check it through here and try to make one for yourself (just try not to hurt anybody).
[Source: YouTube / Via: Obvious Winner ]
(All the images, trademarks, logo's shown on this post are the property of their respective owners)
Roshan Jerad Perera