If you are a fan of good baseball, you have to be in heaven every time Roy Halliday takes the mound.  If I had to point to one guy young pitchers should pay close attention to, it's him.  There is so much to say about his competitiveness, the movement he gets on his pitches, and his ability to throw strikes.  However, Game 1 of the Phillies-Cardinals playoffs Saturday night  provided yet another lesson for young pitchers.
Throughout the season, Roy Halladay has been vulnerable in the first inning.  In fact, the first hitters he has faced in games this year are batting well over .300 off him.  That's amazing (actually puzzling) since batters as a whole are only batting .239.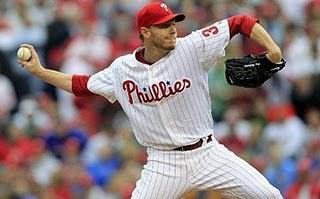 His first inning struggles continued the other night when the Cardinals jumped out to a 3-0 start on a huge home run by Lance Berkman making Phillies fans scratch their heads as to what's causing this trend in Halladay.  Regardless of what may be causing this to happen, what usually comes next is what young players can learn from.  
After giving up the three spot in the first inning and a leadoff hit in the second, Halladay retired 21 straight batters.  In order to do that, he had to do the following:
He bared down and was determined to not allow a bad start to carry on throughout the game.

He made adjustments immediately.

He kept his confidence up during the adversity and knew that he would be fine.

He trusted his stuff and knew that over time, it would lead him towards success.

He kept his poise.

He focused all his attention to holding the Cardinals to those three runs so that his offense had plenty of time to warm up and get back in the game (and boy did they ever!).

He didn't dwell on what already occurred.  

He didn't set out to throw 100+ pitches.  He set out to throw one pitch, with full attention, 105 times.
All great stuff that any pitcher can learn from.