Road accidents are not really a fun thing to watch, especially when it comes torailroad accidents and trains ramming into vehicles killing dozens of people. Maybe after watching this video, you can think twice before driving your car across a railroad in a hurry, because it never ends well.
Folks over at Top Gear wanted to show all the reckless drivers what truly happens when a speeding train rams into a Minivan on the railroad. So, they went ahead and did just that, repeatedly and in Slow Motion. Well, of course the vehicle was empty and no one was harmed. Although, the case won't be the same in a real-life situation.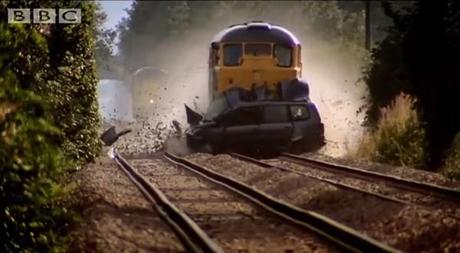 Read Also: 10 Behind the Scenes Photos from 'Back to the Future'

The number of accidents involving people driving across railroads without considering the warnings are countless. And all of this risk for what – to save 5 minutes? Is it really worth risking your lives?
[Via: YouTube]
(All images, trademarks shown on this post are the property of their respective owners)