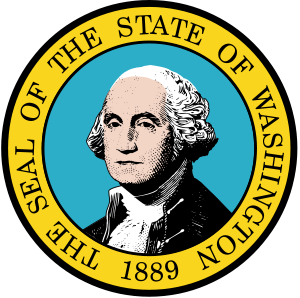 Image via Wikipedia
Davey v. Locke
   This case is interesting to say the
least, two litigants citing constitutional rights, one cites separation of
church and state, the other cites freedom of religion. The state of Washington
denies Joshua Davey's right to freedom of religious expression, claiming that Davey
cannot use the Washington Promise Scholarship funds to major in theology. Davey
was awarded the scholarship based on his performance in high school and on the
SAT, as was the other recipients. The case was brought before the U.S. 9th
Circuit Court.
Using the criteria in terms of
obligation, moral ideals, and consequences to judge the actions of Washington
State, Washington State is mistaken in their conviction. The U.S. 9th
Circuit Court agrees citing "Rule of Church of the Lukumi Babalu Aye, Inc. v.
City of Hialeah, 508 U.S. 520, 113 S. Ct.2217, 124 L. Ed. 2d 593 (1993), as
well as the rule of McDaniel v. Paty, 435 U.S. 618, 90 S. Ct. 1322, 55 L. Ed.
2d 593 (1978), that a state offering a benefit may not impose disability on the
basis of religious status" (Davey v. Locke, 2011). Washington State has an
obligation to treat all scholarship recipients equally, regardless of religious
preference, race, color, creed, or sexual orientation; they did not hold to
their obligation of fairness.
Even the moral ideal of Washington's
actions toward Davey is skewed at best. What does it matter what this young man
wants to major in, as long as he is a productive member of society? It would be
more beneficial to the State of Washington and its communities if Davey became
a graduate of any major, rather than the statistical ramifications of one more
citizen being uneducated. Statistics have shown a strong connection between
uneducated young men and gangs and drugs; it has been proven that young
uneducated men end up in gangs, jail, drugs, and eventually prison. The idea
that the State of Washington would take such a small amount of money awarded to
an ambition young American that wants to do right by his family, self, and
community is baffling- a perfect example of what is going wrong in this
country.
However, the American Justice system
imposed consequences against the State of Washington for its unfair practices.
The 9th Circuit Court ruled that Washington State must return the
money to Davey, stating that "We believe that Washington's interest in this
case is less than compelling…the Promise Scholarship is a secular program that
rewards superior achievement by high school students who meet objective
criteria…scholarship funds would not even go indirectly to sectarian schools or
for non-secular study unless an individual recipient were to make the personal
choice to major in a secular study unless an individual recipient were to make
the personal choice to major in a subject taught from a religious perspective,
and then only to the extent that the proceeds are used for tuition and are
somehow allocable to the religious major" (Davey v. Locke, 2011).
Obviously aggravated with the cases
undertones, the judges go on to suggest, "In these circumstances it is difficult
to see how any reasonable observer could believe that the state was applying
state funds to religious instruction or to support any religious establishment
by allowing an otherwise qualified recipient his scholarship" (Davey v. Locke,
2011). Similarly this is my perspective; Washington's thinking was ignorant at
best. Moreover, the consequences did not end at Washington's justice; it
carried on to the community when Washington pulled the program in 2006.
Washington decided if they could not control who is considered worthy of the
scholarship and who is not, then there would be no more scholarship- and those
consequences will last a lifetime.
References
Davey v. Locke. (2011,May 26). Davey v. Locke- 9th Circuit Court. Find Law.
http://caselaw.findlaw.com/us-9th-circuit/1447570.html
0.000000
0.000000