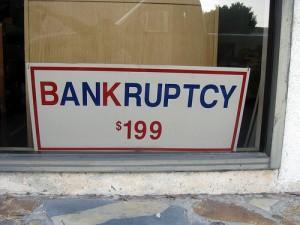 Five years removed from the financial crisis and communities are still untangling the damage done from the frothy over borrowing during the run up to the crash. In a previous post, I discussed how cities' structural budget problems contribute to their financial struggles. So, was Detroit's bankruptcy inevitable and therefore a harbinger for any one-company town, or was it a convergence of a peculiar set of contemporary economic forces, or was it both?
Paul Krugman's cold, macroeconomic perspective can be summed up as "decline happens". The thinking goes that the "creative destruction" inherent in capitalism is responsible for the "five-decade Katrina" that is Detroit. The Big 3 auto companies couldn't always be on top and Detroit's economy was particularly dependent on their continued success. If that is true, many communities are in for a shock. Maybe managed decline could be more humane but the current system of residents being unable to find jobs or depend on basic city services is unsustainable.
If decline is inevitable for more cities, is there a way to avoid the  "waste, pain and human despair" that has occurred as a result of these economic changes? Certainly, Governor Rick Snyder's overly simplistic comments regarding "accountable government" are unhelpful. Of course municipal mismanagement contributed to the crisis, as did urban sprawl, but ⅕ of the current debt is due to a high-finance Wall Street debt restructuring. The combination of declining revenue (both state and local), ballooning pension obligations, and ill-fated Wall Street assistance created a toxic financial situation for Detroit. If the state or federal government won't step in with significant support for urban areas, it will be hard to avoid human despair, now and in future instances.
University of Michigan's Detroit School: Conversations in Urban Studies, with talks by the likes of Professor William Tabb from City University of New York (CUNY), offers an opportunity for Southeast Michigan to grapple with these historical tensions and to work to limit the pain caused by their reverberations. Whether inevitable or not, can we find ways to reduce the waste and pain from decline?
Image Source