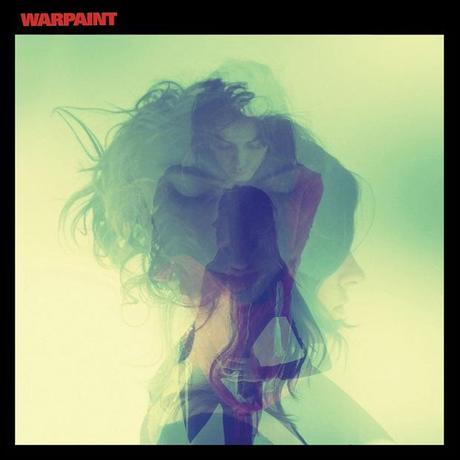 When Warpaint's 2010 debut album, The Fool, was released, the band had already been together for six years, so the tracklist was made up of the band's old songs that weren't yet committed to recording. It was a striking listen from start to finish, capturing everyone who found themselves privy to its ghostly charms. The foursome stole our attention and spent the next few years honing their sound, tweaking live shows according to what worked and what didn't – Warpaint is known for their consuming, feverish performances after all. In the way that The Fool was ghost and grit, Warpaint is all ghost and flesh.
Aiming for a more minimalist sound this time around, Warpaint's driving force is its robust, rhythmic pulse. Tight drums and bold bass lines provide the foundation for dreamy yet haunting vocals. While it's definitely more spacious than their debut, there are light layers to provide texture and nuance as well as give the tracks airy, bulbous dimension. The atmospheric sonic landscape is one of a dense, chilling fog that filters the moonlight just enough to make out four figures who are both indistinct and individual.
The record emits dark, sensual vibes — if I could use just one word to describe their sound here, it would be "sexy." I would hesitate to use that word at all if the band hadn't stated that this was exactly what they were aiming for. When caught in deliberation while recording, the decision would always be to go with the sexiest option. In her recent interview with The Guardian, guitarist/vocalist Theresa Wayman explained, "I don't know if this is TMI or something, but if you really fall into music while you're playing, it's the same space as when you are with a lover. You can see guitar players in the way that they're playing that they're in some ecstatic moment, and it could equally be a sexual moment where they're alone with someone. So if I were to actually put it all into a pot and think about it, playing music can take you closer to that same kind of state of ecstasy as an orgasm. Sometimes that can be very alarming if you're onstage." While Warpaint surges with pheromones and aims to occupy dimly lit bedroom spaces, it's also true that said intimacy has been initiated by genuine love.
Warpaint is beautiful to hear over your sound system, but listening on headphones reveals more sentimentality. There's an urgent sense of plunging into love: "I want more now/I can't get enough," which we hear on "Teese." Soon after comes "CC" where the singer begs, "Give me more/I've been holding out for love." It's a ravenous sort of desire that quickly turns passionate in bursts throughout the album. "Biggy" mentions believing in love towards the beginning and ends with breathy repetitions of "the heat of a lover." The edgy Riot Grrrl angst more present on The Fool, comes back amplified on "Disco//Very" for one of the album's most memorable moments where the band scream-chants together, "Don't you bite or we'll kill you/Rip you up and tear you into," over and over again, convincing us that the whole biting the male's head off after mating thing might actually be pretty damn sexy.
While it's undeniably sexy, it's also smart. Warpaint finds the band adding electronic elements into the mix, the stealthy synths shading the album with the perfect measure of midnight. Producer/Master mixer Flood, who has worked with PJ Harvey and New Order, is responsible for most of the album's balance. However, the record's most notable track and lead single, "Love is to Die," (as well as "Feeling Alright") was guest mixed by none other than Nigel Godrich, who drops a very progressive, Atoms for Peace ambiance over what becomes a subtle earworm that doesn't loosen its grip until the last note. Warpaint is experimenting with their sound, yet retaining the ravishing core flow that we already adore.
The strongest tracks are found within the first half of the album — the infectious hip-hop influenced "Hi," the charming "na na na['s]" in "Teese" and the aforementioned engaging "Love is to Die" and "Disco//Very." The rest of the album warrants listening past the midway point and clear through to witness the album's midnight-fading-into-dawn ending with the warm piano-based "Son."
Warpaint is constructed of equal parts beauty, brawn, and brains while being a unified, logical next phase in the band's evolution/takeover. Repeated listens bring a deeper appreciation for the band's subtleties that may not have been recognized prior to their newfound minimalism. Like an itinerant spirit caught between two worlds, Warpaint is shrouded in both dark mystique and elegant carnality, and the resulting tension makes for an inescapably gorgeous album.