Let me start by showing a video from the Left. Anyone who knows me would never imagine me showing a video from Rachael Maddow. Well here is the unthinkable. Rachael is equally appalled, together with me, about Obama's plan for unlimited imprisonment:
This is what troubles me most in our current situation. What follows is Joe Farrah's take on the massive arms build up by civilian agencies. ~TD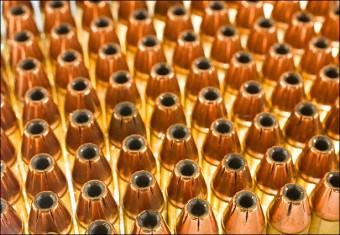 Hollow Point Ammo
BETWEEN THE LINES
WHY IS GOVERNMENT STOCKPILING GUNS, AMMO?
Exclusive: Joseph Farah examines Obama's plan for 'civilian national security force'
Is the U.S. government getting ready for a war we don't know about?
And, if that's why Washington is stockpiling massive amounts of ammunition (hollow points, by the way), why is Homeland Security doing the buying instead of the Defense Department?
I have some theories.
Many of you will remember a story I broke a long time ago – about presidential candidate Barack Obama's little-noticed announcement that, if elected in 2008, he wanted to create a "civilian national security force" as big, as strong and as well-funded as the Defense Department.
Here's what he actually said at a campaign stop in Colorado July 2, 2008: "We cannot continue to rely only on our military in order to achieve the national security objectives we've set. We've got to have a civilian national security force that's just as powerful, just as strong, just as well-funded."
Could what we see happening now in the Department of Homeland Security be the beginning of Obama's dream and our constitutional nightmare?
We've learned more about Obama's vision since then. Maybe it's time for a review:
He made the campaign promise to build this $439 billion domestic army, but all references to the initiative were inexplicably deleted from the copy of his speech posted on his website while others mysteriously disappeared from transcripts of the speech distributed by the campaign. That was strange – and ominous.
At the time, I had never heard anyone use the phrase "civilian national security force" before. But I did a little homework and found out where it originated. It was first proposed by then Bush administration Defense Secretary Robert Gates. On that basis alone, I accurately predicted that, if elected, Obama would name Gates as his own defense secretary. Needless to say, when that appointment came to pass, no media outlet bothered to interview me about my foresight.
Still during the campaign of 2008, I suggested that what Obama had in mind might be something very sinister indeed – perhaps "some kind of domestic Big Brother program."
We never heard another mention of Obama's "civilian national security force" again. Not in 2008, 2009, 2010, 2011 or 2012.
Read more at http://www.wnd.com/2013/02/why-is-government-stockpiling-guns-ammo/#gkYhXA2VuPdxuTsP.99