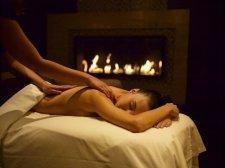 a wonderful massage by the fireplace is just the thing to warm you up in this chilly weather
All this chilly weather got me thinking about warming up and how best to do that. So besides snuggling up with your favorite cuddle-muffin, or curling up next to the fireplace, how do you warm up with essential oils? Do you know which essential oils are warming?
And doesn't a nice warming massage with gorgeous essential oils that help heat you up sound great?!!
Here's a beautiful blend for a lovely warming massage as well as the best carriers to use:
Cistus labdanum (Cistus ladaniferus ): Warming, increases circulation, calming, stress, sleep, mood uplifting, euphoric, meditation, loosens tight muscles, fixative to hold scent of a fragrance.
Cumin; Warming, improves circulation, also good for: digestion, flatulence, purifying, cellulite, calming, stress, mood uplifting, euphoric, relieve fatigue, meditation, helps relieve pain.
 ginger- always great for warming and strengthening
 nutmeg, – very well known as a warming e.o.
black pepper : Very Warming to the body, use with caution, Relaxes tight muscles, also good for: Improves digestion. Flu, Nausea and/or Vomiting, Quinsy, Toothache, Vertigo, Cholera, Catarrh, Colic, Constipation, Diarrhea, Dysentery, Fevers, Flatulence, Heartburn
Allspice- warming and cheering as well as sense-enhancing
oregano, warming and detoxifying as well as strengthening
cinnamon,  very warming, use with caution
carrot seed,  warming, drying
Spanish marjoram, warming and medicinal
Please note that capsicum, cinnamon, and black pepper (as well as all of these oils listed) can be dangerous to the skin and burn if not diluted properly. Use only maximum 3-5% dilution in your carrier oils to be safe.
Other warming oils:
Allspice (warming, cheering, sense-enhancing), Cardamom, Cassia, Celery seed, Clove, Capsicum (very hot!) or Chili Seed a.k.a.Cayenne (Capsicum annum) , Cumin, Fennel (warming, invigorating), Oregano, Bay, black pepper, cinnamon bark (Cinnamomum zeylanicum), ginger, eucalyptus, pine, rosemary, thyme, peppermint.
Dilution amounts chart: (use 20-30 dps.  of e.o blend per oz of carriers for 3-5 % dilution)
Carrier Oil
Essential Oil Dilution
Oz.
Measure
1% Dilution
2% Dilution
3% Dilution
4% Dilution
5% Dilution
1/6 oz.
5mls
1 drop
2 drops
3 drops
4 drops
5 drops
1/3 oz.
10mls
2 drops
4 drops
6 drops
8 drops
10 drops
1/2 oz.
15mls
3 drops
6 drops
9 drops
12 drops
15 drops
2/3 oz.
20mls
4 drops
8 drops
12 drops
16 drops
20 drops
5/6 oz.
25mls
5 drops
10 drops
15 drops
20 drops
25 drops
1 oz.
30mls
6 drops
12 drops
18 drops
24 drops
30 drops
1 2/3 oz.
50mls
10 drops
20 drops
30 drops
40 drops
50 drops
Best massage carrier oils:
Grapeseed oil, fractionated coconut oil, organic jojoba oil, avocado oil, apricot kernel oil all work very well for massage; a blend of them is even better.
Grapeseed oil is very light, and won't stain sheets. Blend the grapeseed with fractionated coconut oil which is also very light and will help the blend feel less greasy, add a little jojoba and you have the perfect light massage blend. If you want a more moisturizing blend use the fract. coconut blended with avocado and apricot kernel oils.