One of the challenges of being a relief pitcher is knowing how much to throw on any given day.  If you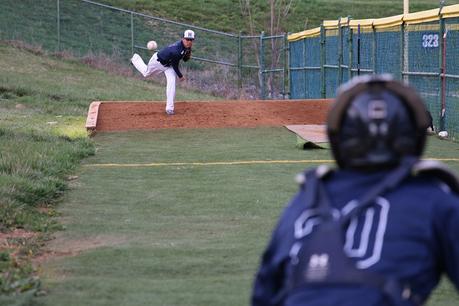 Save the last 8 for the mound!
are not sure you will be throwing in a given game, how much do you throw before the game to get loose? Do you just play catch?  Do you throw a full bullpen session or just a "short box"?  (more on short boxes in the near future)
Conserving your arm for the game is certainly the priority so managing your throwing as a reliever is key.
One simple way to conserve throws is to never fully get loose in the pen when you are asked to warm-up.  Get within 8 pitches of being fully loose and save those last eight for the mound if you are called into the game – all pitchers are allowed 8 pitches when they enter the game.
If a pitcher gets fully warmed up in the pen and uses 8 additional pitches when he enters the game, that's 8 more throws then were needed.  Over the course of a season (let's say 25 total appearances in a full season), that's 200 extra pitches!
Save those pitches for the batters. Don't waste them on the bullpen catcher!