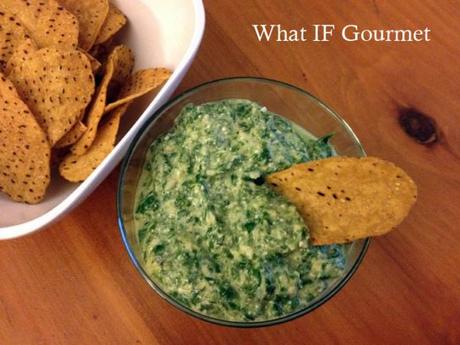 Dairy-free spinach artichoke dip with gluten-free sweet potato tortilla chips.
This dip is healthy enough to be a legit side dish at dinnertime, so you can snack away with abandon and without the guilt. This is a good thing, because once you taste it, you may just want to steal away with the bowl of dip and a spoon. Silken tofu adds body and a creamy mouthfeel, but I guarantee this dip is so flavorful and nesty that even the most tofu-averse (the Gent falls into that category) won't suspect it's there.  You could also serve this as a flavorful, nutritious topping for baked potatoes or sweet potatoes.
Warm Spinach Artichoke Dip
10 oz. baby spinach
1 can artichoke hearts (about 8.5 oz.), drained
6 cloves garlic
1/3 cup olive oil
1 tsp mixed dried herbs (thyme, oregano, basil all work well)
1/2 teaspoon salt (and to taste)
6 0z. (about 1/2 package) silken tofu
juice of 1/2 a lemon (about 2 Tbsp)
Heat the olive oil over medium heat in a large (12″) skillet.  Peel the garlic cloves and add them whole to the hot oil, and give them a quick stir.  Rinse the baby spinach with cold water and then add it — with the water still clinging to the leaves — to the skillet. Cover the skillet and let the spinach steam for about 2 minutes. Remove the lid and gently stir and turn the spinach with a pair of tongs, until it is all covered with olive oil and wilty. Continue to cook for another 2 or so minutes until the spinach is thoroughly wilted.  Stir in the herbs and salt.  Set aside to cool for 3 to 4 minutes.
Add the drained artichoke hearts and the spinach mixture to a blender or food processor. Pulse until roughly chopped. Add the lemon juice and tofu, and process until mixture reaches desired consistency. I like my spinach artichoke dip a bit chunky, but it will taste just as good with a smoother texture.  Taste, adjust seasoning, and serve warm.