On Saturday, I began machining strips of walnut and maple to make a pair of chess boards. I was asked about making these a few months ago by someone with a preference for true ebony over walnut but, with winter soon to fall, I've decided to press on and attempt to get these done by November(!).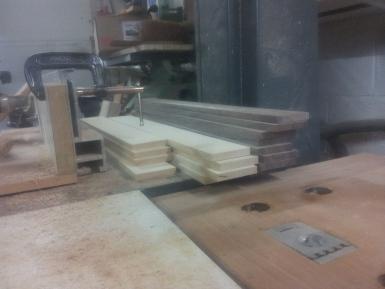 One board will have 40mm squares; the other will have 50mm – just as requested in the previous e-mails so, yes, it's partially in case someone gets back to me with an offer to buy the finished boards!

On top of that, I'm looking forward to the challenge (having never made even a single chess board before) and the possibility of French polishing for the first time since… 2008!!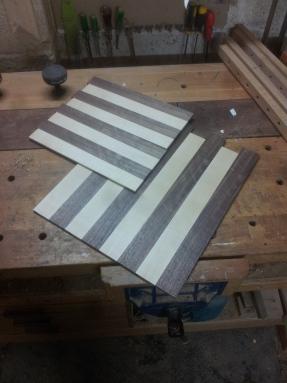 I mentioned ebony earlier because a suggestion I made was to ebonise the walnut for an even darker appearance; feeding off the tanins within the wood with pre-made solutions of iron acetate and tea. That in itself could be interesting and again, it's new to me.
It's tricky, considering which stage in the making process would be ideal for ebonising solution to be applied… If I do it too soon, I risk sanding it away with latter attempts to flatten and level each board. Leave it too late and there's a risk that it may slightly stain the maple (even though that species does not contain tanins). I also need to consider the most appropriate time to apply a grain filler, as I will be wanting a smooth, mirror-like finish (ie. so the wood grain cannot be felt).
What I realised on Tuesday night (my most recent visit to the workshop) was that I don't have enough walnut to complete even one of the boards; at least, not without wasting too much of a big 2in thick lump that's only slightly too long/not long enough. It could mean a trip out somewhere to buy a length of 1½in saw stock, so that I have just enough to create the lippings and also the feet idea that appealed to my (potential) customer.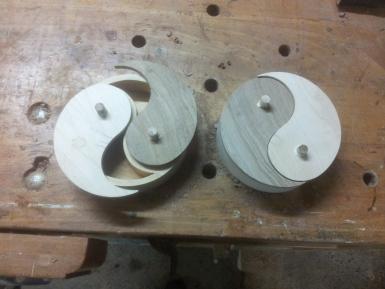 Elsewhere, I have these two yin-and-yang bandsaw boxes almost ready for completion. They pivot rather well, although I had to re-drill one of the boxes and both holes were slightly off-centre and it just wasn't working.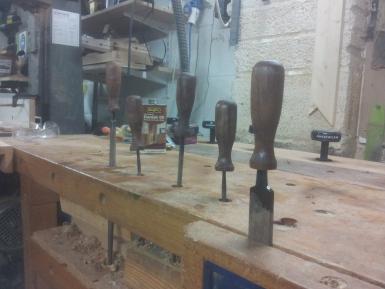 I've just about finished these file handles made from walnut scraps left over from the cutting boards I made in the early summer. These handles were purchased from a forum member of UKW and it's been one of those 'simple' little projects that allows you to achieve something quickly. I've also been able to exercise my adeptness in woodturning but without using a lathe…!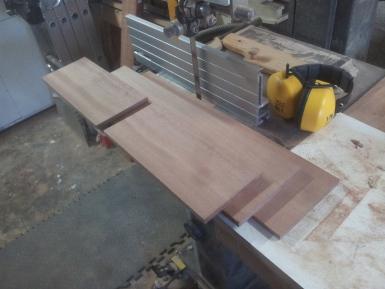 On the same Saturday, I also took the time to resaw some sapele so that I can make something similar to one of Steve Ramsey's 'Book Boxes'. I'm actually going to make two of these because, well, I don't like to make only one when working on small items like this.
So, potentially, you'll have four new YouTube videos right there! It's all a question of when I can get the editing done after filming; in addition to the half-a-dozen-or-so edits I currently have on-the-go!!

Thank you and enjoy your weekend.