Many of you know Elf Tesla as the friendly voice that usually answers the phone when you call us with a sizing question. She's also our head honcho customer service elf and has a knack for putting out fires of all shapes and sizes without losing her cool. We're both delighted and sorry to say that you won't be hearing her voice for a while because she'll soon begin her first maternity leave!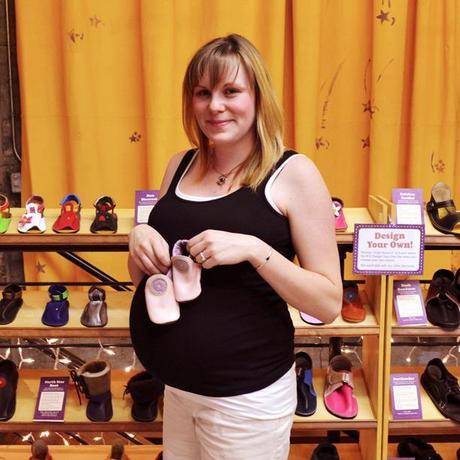 Elf Tesla, Nine Months Pregnant
Tesla and husband Michael are expecting their first child very soon—the due date is less than two weeks away! So far, everything is going great. The baby is looking super healthy, Tesla snatched up her favorite Soft Star baby shoes from our showroom before anyone else could buy them and the whole elf staff had a blast at her baby shower. Only one big problem remains... Tesla and Michael can't decide on a name!
After months of discussion and web name searching, they still haven't found one they feel strongly about. It's getting close to baby time, so the deadline is fast approaching.
Feel free to list your suggestions in the comments below, or post them on our Facebook or Google+ posts. Tesla is happy to hear them all!
And no worries, Tesla promises to return to the workshop in a few months (big sigh of relief from the rest of the elves).
Related Posts:
Special Anniversary Edition Shiny Baby Moccasin