&appId;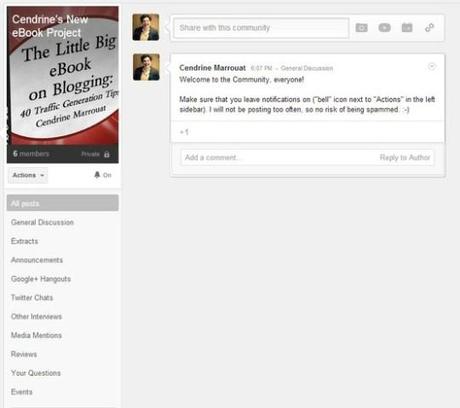 Source: plus.google.com via Cendrine Marrouat on Pinterest
For those who wonder how things have been going with my new eBook project, let me say this: Life can be a little too busy at times. ;-)
I spent the last few weeks getting ready for the upcoming new season of workshops at McNally Robinson Booksellers, in Winnipeg. Unfortunately, I need some more time before being able to start working on the book again.
In the interim, I invite people interested in supporting my project to join my Google+ Community. It is set to private, which means that only members can see the activity within the group.
This Community will allow me to manage the street team more easily, especially through Hangouts. Members will also be the first to know about new developments and announcements.
So, if you have a Google+ profile, join the group!
Thank you for sharing!