I recently had the honor of being a panelist with Christian Rudder, OkCupid's co-founder, on HuffPost Live about his new book Dataclysm: Who We Are (When We Think No One's Looking). On http://live.huffingtonpost.com/r/segment/christian-rudder-okcupid-cofounder-dataclysm/53da6a2002a760346200058e  , I had a chance to ask Christian the burning question we all want to know: what are some of the reasons that people represent themselves as what they want you to see rather than the real person that will emerge in a relationship?
Christian attributes that to be something that is part of real life and human nature. He also added that the advantages of OKC is that people can meet each other in real life and determine chemistry quickly. I was hoping that he was going to provide stats about the discrepancy and maybe discuss some of the ways their algorithm may refine the process. Darn :(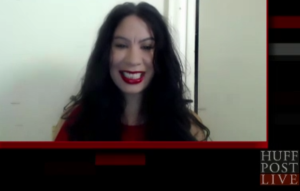 Other highlights from the interview:
*Women search for men closer to their age, while men regardless of their age still seek 22 year olds. Christian attributes that to men still not growing up and that models in magazines are that age. Check out Dr Drew's take: http://www.hlntv.com/video/2014/09/11/ok-cupid-online-dating-age-women-men-attraction
*50 year old men don't usually contact 20 year old women for the realities of a higher rejection rate.
*The hot or not feature is not designed to have everyone flocking to the most popular person on the site, it's designed to give everyone a chance to pair off with what they find most attractive.
*OKC does not manipulate factual data such as age, sexual orientation, they alter minor details like size of photo to help users have better compatibility results based on their desired characteristics.
Check out the full video for more behind the scenes insights on OKC and let me know what you think.  http://live.huffingtonpost.com/r/segment/christian-rudder-okcupid-cofounder-dataclysm/53da6a2002a760346200058e