The success of your business rides on your fleet. In order to get your fleet costs under control, you first have to know what they are. And like most fleet owners, you've made big investments to keep both moving smoothing. But do you really know how your fleet's performing … or how much it costs to run it?
Most fleet owners have no problem identifying the obvious costs… like the purchase price of the vehicle, or the cost of tires, maintenance, fuel or driver training. But when it comes to the costs of owning a vehicle or fleet, most never look beyond the truck. As a result, they miss the hidden costs of owning a fleet.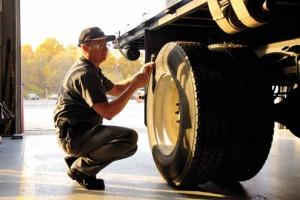 Those costs can be significant. According to a 2012 Ernst & Young study[1], the total cost of owning a fleet ranges from 0.1% to 5.3% of revenues. So, how much are you really spending on your fleet? Are you leaving money on the table? The key to unlocking the answers is understanding Total Cost of Ownership (TCO).
Calculating TCO? There's more to it than trucks
Taking control of fleet costs begins with understanding TCO. Simply put, TCO is the total cost of owning and operating a vehicle or fleet of vehicles, including:
Vehicle acquisition/lease costs (minus the price recovered from its sale)
Maintenance, repair and service costs
Insurance costs
Fuel costs
Tire costs
Out-of-warranty repairs
Driver training and salary
Administrative costs
Loss of residual value
Other costs
Many companies think they have a handle on TCO. In fact, they're missing critical pieces that can have a tremendous impact on operating costs. The first thing to recognize is that TCO goes beyond the truck. The second is that it's important not to compare your fleet costs against generic bench-marking reports. This can skew results wildly because it doesn't account for fleet size, age or indirect costs.
Want an accurate comparison of your fleet costs?
Effectively evaluating cost-saving opportunities means understanding your current fleet costs and how they compare to companies with fleets of similar sizes or ages. To accurately compare costs, you may have to make adjustments in five areas:
Maintenance costs: The relationship between maintenance costs and the age of a fleet is clear. It costs far more to maintain an aging fleet than a new one. However, many fleet managers struggle with calculating their true maintenance costs. Two companies with the same size fleets may have completely different maintenance costs based on the age of their fleets. As a rule, maintenance costs increase over the life of a vehicle. Research confirms this. It also confirms that costs rise at an exponential rate.
Financing costs: Every company finances fleet acquisitions differently. Many fleet managers incorrectly assume that purchasing vehicles with cash eliminates interest charges. In fact, an implicit opportunity cost is associated with cash purchases. Because of these factors and more, financing methods can have a tremendous impact on cost comparability. For an accurate comparison, convert cash equipment acquisition costs to a comparable operating lease.
Asset depreciation: Just as companies finance their fleets differently, fleet managers use different methods to depreciate assets and estimate vehicle salvage value. To standardize depreciation costs, use straight-line economic depreciation across the holding period, assuming average purchase and disposal prices.
Administrative costs: The indirect costs associated with running a fleet are often overlooked. This includes the people and systems that aren't directly related to fleet maintenance and management but are essential to their operation. Examples include IT personnel who support maintenance shops and human resources, payroll and accounting systems and departments that manage benefits for drivers and maintenance staff.
Vehicle mileage: When comparing fleets, varying mileage on different vehicles can distort the fixed component of the calculated cost per mile. High-mileage applications might seem to have a lower cost per mile because costs are spread out over more miles, compared to lower mileage applications.In actuality, lower-mileage applications may have a lower cost per mile. To standardize mileage costs, make adjustments based on the application.
Could you benefit by optimizing your fleet and improving margins? Ask yourself these 5 questions …

What is the total cost per mile for my fleet?
How does my fleet's total cost per mile compare to similar fleets – and how deep is my visibility into fleet total cost per mile?
Do I gain economies of scale from increasing fleet size bigger than 150?
Have I included the cost of capital into my lease vs. buy calculations?
Is fleet management my core business competency?
Kirk Morton is Director of Sales Operations for National Accounts and is responsible for the Total Cost of Ownership model that is used in assisting Customers to have more insight into their transportation costs.  Kirk has been with Ryder for 41 years spending most of his career in Sales and Sales Leadership positions.
---
[1] The 2012 Ernst & Young private fleet total cost of ownership study was conducted for Class 8 tractors, Class 6 and 7 trucks, reefer trailers and dry van trailers and
included 22 participants across a range of fleet sizes and industries. The study adjusted and normalized data for differences in: financing, depreciation, fleet age, mileage and administration cost allocation.