"I want tall, dark, and handsome." So do plenty of other people. "I want barbie who can cook and clean." Take a #. The problem with approaching online dating this way is that we're treating profiles like we do our online social networking streams. The shiniest object is what we stop at. We should be efficient and select what we find attractive, but not where it discounts good candidates. Perception is an illusion. You know why? Because #1 person we lie to is ourselves.
We're living in a self-absorbedie culture. Attraction is the first cut for dating. Are we trying to stand out? Yes. Do we have to go to extremes to stand out?
Let's find out:
How many selfies do you take? How many final photos are filtered? A study found that women spend 753 hours on taking selfies and that includes filtering photos. Are these the photos that make it to an online dating profile? Yes. What's the #1 complaint of online dating that I hear? That people don't look like their pics! For men, posting selfies has been linked to having narcissistic traits. Not rocket science. It was also linked to self-objectification. Should men pose with tigers? WTF? [Not even lying! Check it out: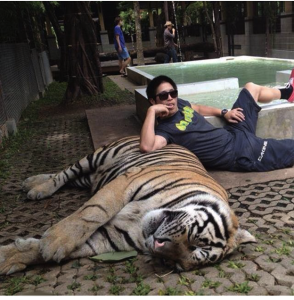 Photo and article courtesy of Diamond Coleman at BuzzFeed] Is that upping sexy? Are men discounting other qualities like their accomplishments, drive, honesty, so that they could beat the guy above or below them?
Here's what you can do:
Use an accurate photo. Men: No one wants to think they are meeting with a Brad Pitt look-a-like to find Mr Magoo showing up. Women: Most of the time we look better in real life. If the wrinkles bother you that bad, Botox not airbrush.
Online dating shouldn't be a competition with the person above or below you. You're looking for a specific set of qualities that compliment you. So is the person above or below you. At the end, you will get what you want and so will they.
Stop being a persona. Be you. Not the guy/girl you think women/men want to respond to. Women get too many messages from "undesirable guys" while men send hundreds of messages in order to get a response. One of the draws to online dating is efficiency. Filtering through hundreds of profiles from people who don't fit your search criteria and spamming everyone is not efficient.