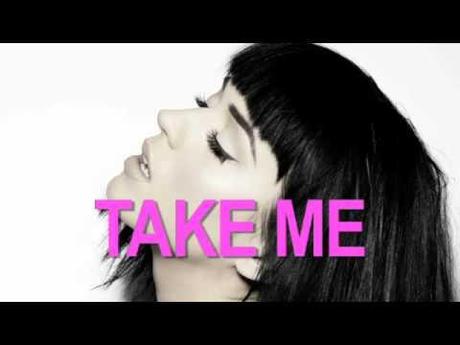 I love music. From Tchaikovsky to T-Pain, my iPod has it all. I also love to sing. I'm not all that good at it, and my off-key crooning is usually confined to my shower or car, but nevertheless I enjoy it. It puts me in a good mood.
On my way home this afternoon, I was listening to my usual pre-set pop radio station when a relatively new song called Extraterrestrial by Katy Perry and Kanye West came on. I'd heard it before, but never paid much attention to anything other than the catchy beat. It wasn't until today that I realized what the lyrics were actually saying. For those of you who aren't fans of top-40 radio, here's a partial transcript. You can also listen to the song here.
"They say be afraid
You're not like the others
Futuristic lover
Different DNA
They don't understand you
Your from a whole other world
A different dimension
You open my eyes
And I'm ready to go
Lead me into the light
Kiss me, ki-ki-kiss me
Infect me with your love and
Fill me with your poison
Take me, ta-ta-take me
Wanna be a victim
Ready for abduction
Boy, you're an alien
Your touch are foreign
It's supernatural
Extraterrestrial"
Infect me with your poison? I wanna be a victim? Really?
Of course misogynistic lyrics are nothing new – women have been objectified and called "bitches" and "hos" in rap lyrics for years, but what I find most disturbing about this particular set of lyrics is that a woman is actively and with conviction insisting she wants to be a victim. A victim of what, you might ask? Well, perhaps I'm reading a bit too much into this, but it sounds eerily like the articulation of a female rape fantasy played out in lyrical form.
Ms. Perry recently admitted to the British tabloid OK! she has no desire to be a role model and would prefer kids look up to girls like (*gag, choke, vomit in mouth*) Miley Cyrus.
You have GOT to be kidding me.
Too bad she doesn't really have a choice in the matter. She's a role model (albeit not a very good one) whether she wants to be or not, and she should know better than to think she's not culpable just by saying she doesn't want to be. Shame on you, Katy.
Songs like "Extraterrestrial" and Rhianna's "S&M", where the songstress states "the pain is my pleasure" and describes how excited she becomes by whips and chains (surprising given the brutal and widely publicized beating she received from ex-boyfriend Chris Brown), leave me wondering what a conscientious feminist is supposed to do? Can I like these songs and still claim to be fighting patriarchy? Can I sing along without compromising the part of myself that hates the message the lyrics are promoting? Of these things I'm not sure. But what I am sure of is that my daughter won't be listening to them.
These women know they are influential. They know their lyrics reach millions of teen girls and young women on a daily, if not hourly, basis. They also base their entire careers on the notion that the cultural products they produce will resonate with people, and Rhianna has experienced first hand one of the ugly and painful products of patriarchy. So why on earth are they loudly and proudly proclaiming their desires to be brutalized by men?!
Perhaps they don't claim to be feminists, and that's perfectly fine, even appropriate given the content of their music, but that doesn't get them off the hook when it comes to promoting violence toward women. We've come to expect it from many male artists in the popular music industry (i.e. 99% of male rappers), but I find it tragic that even a former victim of such violence now seems to be promoting it, even glamorizing it.
If Katy wants so badly to be a victim, I'm pretty sure she's gotten her wish. She's yet another victim of the hegemonic, patriarchal ideology that has relegated women to nothing more than objects of male sexual pleasure. I sure hope she's happy.
Katie E also writes for Figuring out Feminism