The worlds of fashion and interior design draw inspiration from one another. Trends from the runway often pop up in interior design and vice versa. This season, one of my favorite styles, boho chic, has taken fashion and design by storm. It's all about vibrant color, global details and eclectic elements.
Here are some of my favorite examples illustrating what happens when the two fields collide: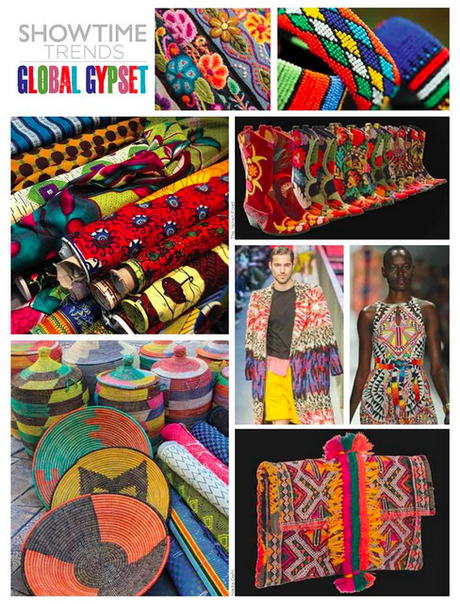 Via Itma Showtime.
Gypset (think gypsy meets jet setter) incorporates bright, vivid hues with global motifs. Perfect for upholstery!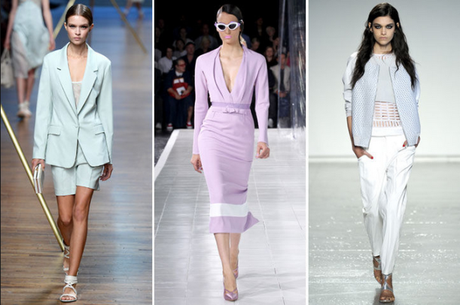 Via Glamour. Jason Wu, Prabal Gurung, Rebecca Taylor.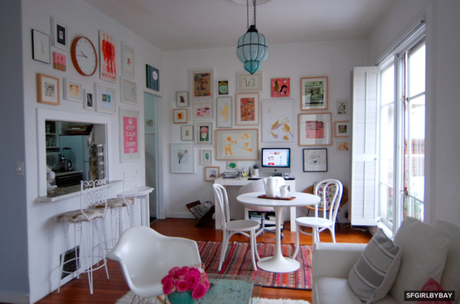 By SF Girl by Bay via Houzz.
Soft pastels dominated the spring/summer 2014 runways. The shades can be incorporated into a space in a mature way by tempering them with clean lines, white walls and eclectic pieces.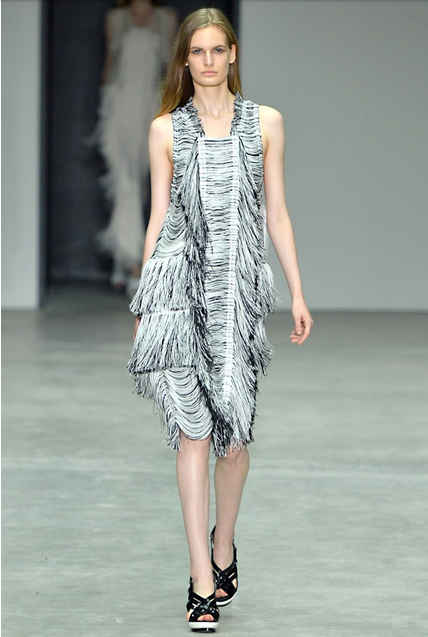 Calvin Klein via Vogue.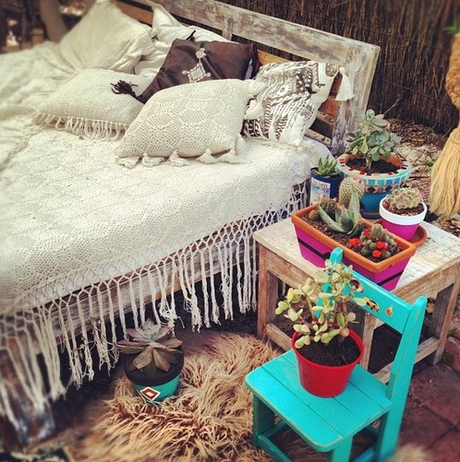 Summer Atkinson via Pinterest.
Fringe took center stage at a variety of runway shows. The funky look is reminiscent of hippy style. Try it in trims, fabric and furniture. It adds some vintage appeal.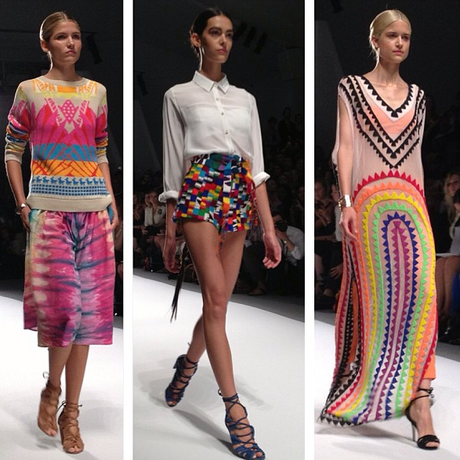 Mara Hoffman via Divine Caroline.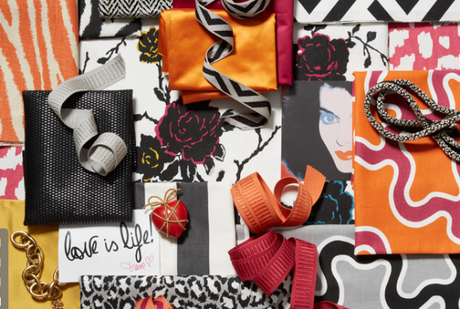 Diane von Furstenberg for Kravet.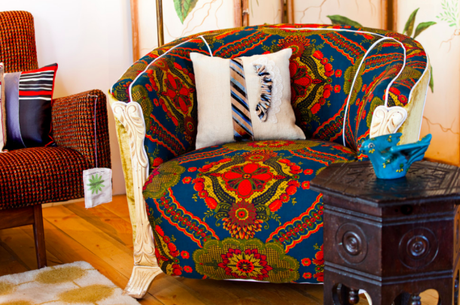 Via Vintage Renewal.
Technicolor pieces in geometric, tribal and even tie-dye prints popped at the Mara Hoffman show. Take a page from the designer by mixing vibrant patterns in the home. Diane von Furstenberg's collection for Kravet includes an array of colorful prints. A chair reupholstered in a daring pattern does the trick as well.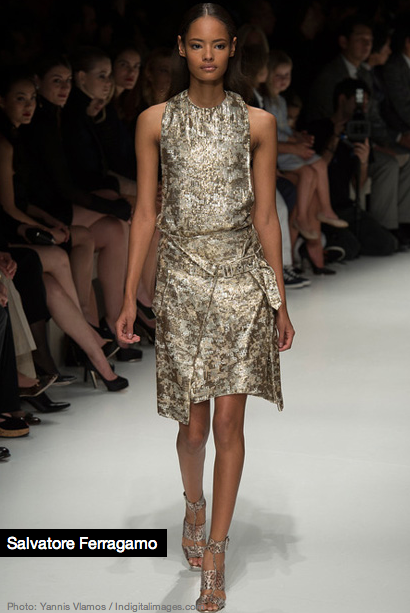 Via Style.com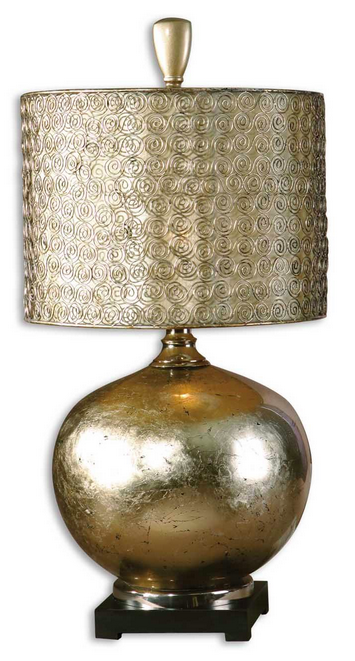 Via Iris Interiors Shop.
I loved all of the metallics, such as this Salvatore Ferragamo dress. It easily translates into interiors when used as an accent like this lamp with a metallic finish.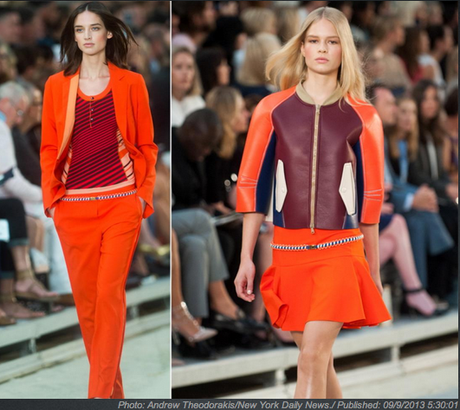 Tommy Hilfiger via NY Daily News.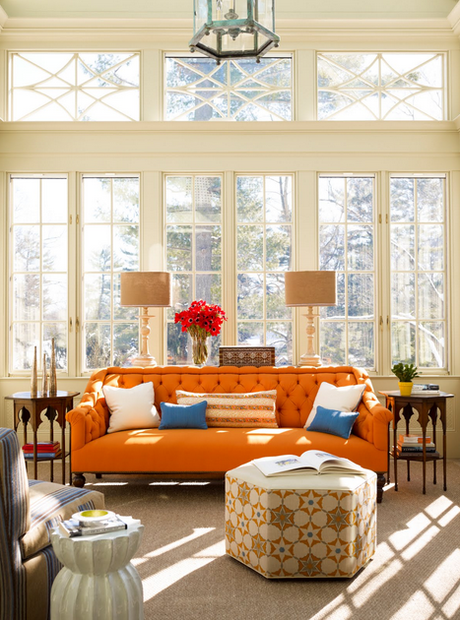 Katie Ridder Via Coco Cozy.
Orange was a color of choice for designers. Start small in a space by incorporating the color through a couch or accessories.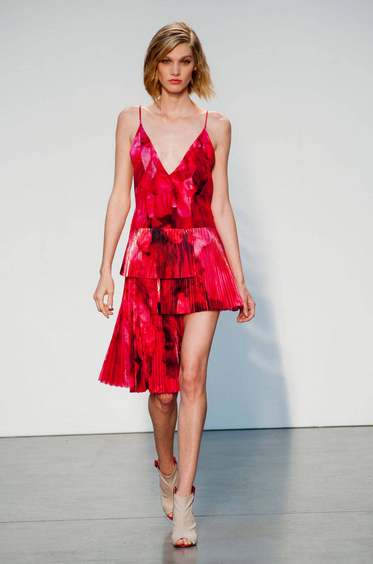 Thakoon via Harper's Bazaar.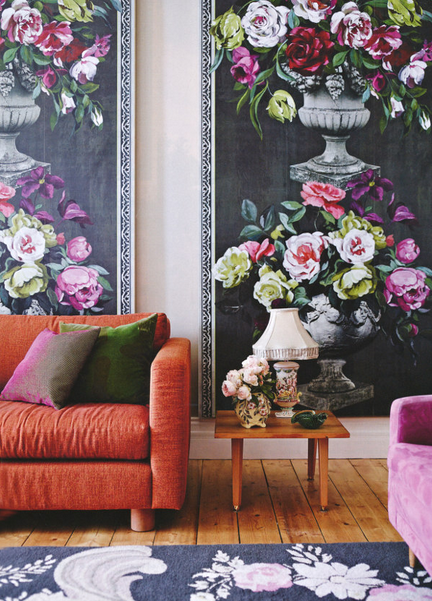 Via Dust Jacket. Floral panels by Designers Guild.
Florals are back and they don't have to appear stuffy, whether the pattern graces a breezy summer dress or highlights a vintage space.
What are your favorite fashion-inspired interior design trends?
In need of the perfect fearless, bohemian space or want to take a look at fabrics only available to the trade? Contact Iris Interiors!