Continuing from our previous Muay Thai Fighter post, I will be posting articles on all the fighters mentioned in that article. First up is Wanderlei Silva, a fighter I am sure most of you know.
Born in Curitiba, Parana Brazil, but currently living in the USA, Silva is just 35 years old (as of writing). He is 5'11 and weighs 185lbs making him a borderline middleweight. Previously, Silva was both a heavyweight and a light heavyweight.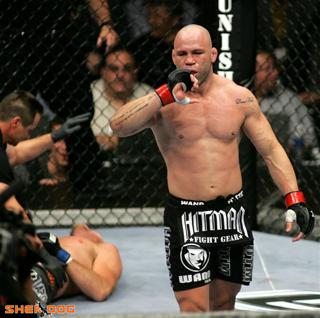 Silva is most famous for his aggressive fighting style, originating from his history of street fighting. In fact, this is where Silva learned the basics of fighting, which would later evolve into what we see today. As a young kid, he worked in his father's bar before starting formal Martial Arts training at 13 years of age in Muay Thai. Later on, he joining the military where others quickly noticed he had potential to fight. At this time, he had already won a couple of local tournaments in Brazil. Wanderlei Silva states that his year and five months spent in the military helped him build up discipline which he would later use in his Martial Arts training.
Silva's first official fight was on November 1, 1996 (he was 20 years old here), where he fought in the Brazilian Vale Tudo Fighting organization (BVF for short) against Dilson Filho where he won by knockout. Here is his first professional fight:
He fought in just one more fight while in the BVF, against Marcelo Barbos on July 1, 1997 where Barbos submitted due to a shoulder injury. After that, Silva moved on to fighting in the IVC from 1997 to 1999 in a total of 6 matches across 4 events (IVC 2, IVC 6, IVC 9 and IVC 10). Five of these where won by TKO or KO. His highlight while fighting in the IVC was winning the light heavyweight belt against Eugene Jackson with a submission on April 27, 1999. As a trivial note, it was here that Silva was nicknamed "The Axe Murderer".
Fast forward a bit, and Wanderlei Silva becomes the PRIDE Middleweight Champion on November 3, 2001 with an astonishing 18 win streak. This title was won against the legendary Kazushi Sakuraba.
Before closing off, here are some interesting facts about Wanderlei Silva:
Has great Muay Thai skills with an excellent clinch.
Has a black belt in Brazilian Jiu Jitsu but mostly used this knowledge as submission defense.
Silva is married with a 12 year old girl and a 4 year old son called Thor.
Also nicknamed "Cachorro Louco" (Brazilian for "Mad Dog") for the same reasons as his other nickname.
You can find Silva on Facebook and Twitter.
Thanks for reading.