Ever since we scrambled down from the trees or stumbled out of our caves, humankind has constructed walls, originally to keep the outside out (weather, marauders), but also to keep the inside in (warmth, valuables, perishables, livestock). The earliest walls were surely as basic as piles of loose rock or stone, heaps of soil, stripped branches slathered with mud or covered with animal skins. As ingenuity and tools proliferated, so did the sophistication of wall-making: hewn stone, wooden frames with planking, bricks of sun-baked mud and later fired clay, mortared and cemented constructions. The remains of the most durable, dating back thousands of years, can still be seen across the world today.
We grew to be pretty good at it, ingenious too. The Great Wall of China, at over 13,000 miles long, is probably the most famous and certainly the most impressive example. Did you know that the blocks (stone at the base, brick higher up) are all held together by a paste made from sticky rice soup mixed with slaked lime? Yummy. Some sections are 2,500 years old, and wearing well.
The walls of Jericho are also famous but didn't wear so well. Built in around 8,000 BC on the west bank of the river Jordan, they were breached (as narrated in the Bible) by the Israelites who marched round outside the city for six days and whose trumpets on the seventh day caused the walls to tumble. That marked the entry of the Israelites into Canaan, their so-called 'promised land'.
Further north in what is modern day Turkiye you can still see partial remains of the walls of one version of the fabled city of Troy; and then westwards from there lies dusty Crete with some of the Minoan palace of Knossos visible on the outskirts of modern day Irakleion, and the lovely ochre-flecked walls in the port city of Chania (below) dating from Venetian times (originally 13th century).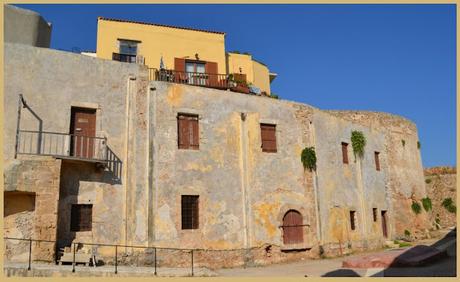 Chania, Crete (2012 SGR)
Across western Europe, city states surrounded themselves with such stout walls, and conquerors built magnificent castles and miles of defensive walls to protect their empires from invasion, ultimately a futile task, for the combined cost of upkeep and the tenacity of invading armies with firepower and scaling machines rendered most defences only temporary stays against keeping the outside out. Also, as populations increased, so cities naturally outgrew their walls. The ramparts were often dismantled so the materials could be used for new houses and municipal buildings in the expanded conurbations.
Coming rapidly up the years, one of the most notorious walls of the 20th century was that erected in Berlin by the GDR (German Democratic Republic, aka East Germany) to keep the inside in. Its construction actually commenced on this day 13th August in 1961 because the communist-controlled part of the city wanted to stop the constant wave of East German citizens trying to escape soviet rule for the freedom of the west. It literally divided Berlin for nearly 30 years until 1989 and German reunification, after which it was dismantled and pieces were sold as souvenirs of the cold war era. 
Writing that prompted me to reflect that walls can be metaphorical as well as literal and I'm thinking walls of fear, walls of prejudice and walls of silence (and sound) in particular, some of them at least suitable candidates for undermining and dismantling wherever they may be found.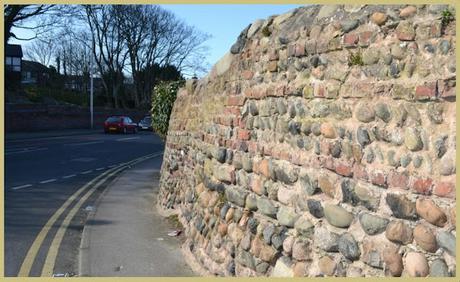 Blackpool, England (2013, SGR)
It's a satisfying undertaking, building a physical wall. With no previous experience, I built a very passable front-garden wall one hot bank-holiday while my two-year-old daughter watched the whole time from inside, standing on a chair, nose pressed against the living-room window. That wall stands to this day.
It was neither as tall nor as elaborate as the cobble wall pictured above in my adopted home. Blackpool has a number of such walls built of, or faced with, layers of cobblestones alternating sometimes with brick. A cobble (or cobblestone) is defined on the Udden-Wentworth scale as being between 2.5 and 10 inches in size (bigger than a pebble but smaller than a boulder). Many seaside towns have such walls, on account of cobblestones being plentiful at one time on beaches, beautifully sand and wave smoothed. They are rather attractive features to look at, though being somewhat irregular are no good for kicking a ball against. 
That pastime, in my childhood, required a good flat wall, such as the one depicted below, preferably with chalked-in goalposts so that the boys from built-up neighbourhoods without access to green spaces could play their games of football and dream of cup-final glory. There were no 'No ball games' signs around in those days.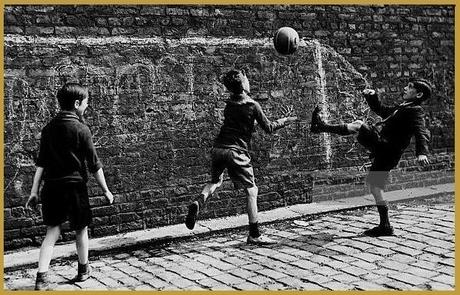 Backstreet, Anytown (1958, unknown)
Here to finish is my latest poem, admittedly another work-in-progress, inspired by the recent UEFA Women's Euro 2022 tournament and a metaphorical take on tearing down walls.
Kicking On
Every time the ball strikes the wall, soot falls,the neighbor curses, and one scuffed lad willpeel away hearing that terrace ovation rollingdown the backstreet, an affirming tide. Lasses
they have dolls and ballet classes, wouldn't getthe offside trap, the tactic of a marauding back,the thrill of a save, the joy of a goal; so why dothey watch intently from living-room windows
while contemptuously pretending not to noticehow to tackle, nutmeg, feint, spin, shoot whenthe lads go out to play? One day lasses, surely,for every time a ball strikes the wall, soot falls.
Thanks for reading, S ;-)
Email This
BlogThis!
Share to Twitter
Share to Facebook