New to little Indiana? Subscribe for free to my RSS feed. Thanks for stopping by!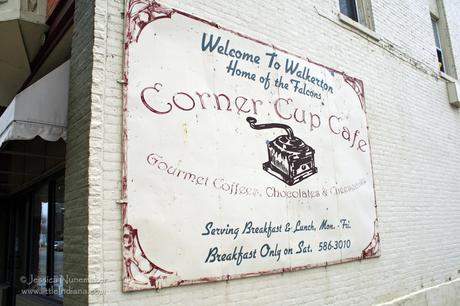 Corner Cup Cafe: Walkerton, Indiana Mural
Downtown Walkerton, Indiana has quite a few really sharp buildings–you can't help but notice the large mural painted on the side of the Corner Cup Cafe!
It's sort of like an all in one Indiana coffee shop, chocolate shop, and cafe.
Corner Cup Cafe in Walkerton, Indiana
I love a good cup of coffee as much as the next guy. Here at Corner Cup Cafe, there are changing specials and a very large and impressive assortment of flavored coffees. Yum!
Add to that a seasonal menu and a nice selection on the usual menu, it's easy to see why folks in this Indiana town don't just eat and run–they linger.
We had lunch at this Walkerton staple. Well, lunch and coffee.
With an eye-catching bakery case of goodies (and chocolates by a famed big city chocolate maker), you can bet we threw dessert in there too! You knew that was coming, though, didn't you?
Corner Cup Cafe Food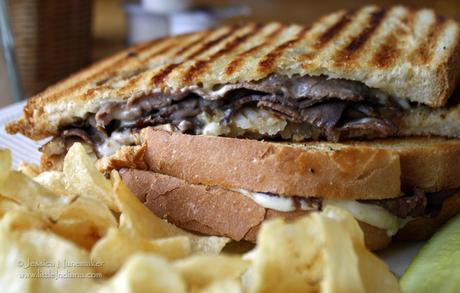 Corner Cup Cafe: Walkerton, Indiana Beef and Mushroom Panini
I'll admit it was hard to decide!
There were a few seasonal items that sounded so good. Cranberry Spinach Salad? How unusual! But…there was also a Reuben Sandwich on the menu. I am a creature of habit.
Luckily hubs was along for the ride and he doesn't always want to get the same thing (though, really, I consider my Reuben Sandwich obsession more of a hunt for the best! It's research, right?). He went for the Beef and Mushroom Panini.
Piping hot with melty cheese in all the right places, both of our sandwiches looked fantastic. Don't you agree?
Go There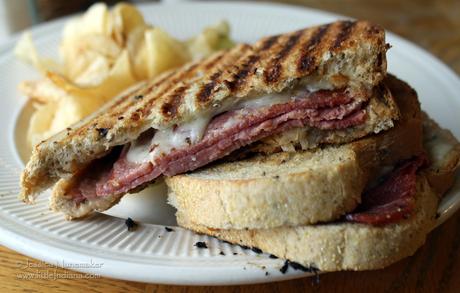 Corner Cup Cafe: Walkerton, Indiana Reuben Sandwich
Take a tip from the locals and head to this St. Joseph County all in one shop for a cup of coffee, a tasty snack, or a delicious lunch.
I know I've left you wondering what we had for dessert, so I have two words for you: "chocolate" and "cake!" But that's a story for a different day!
Don't miss a moment. Subscribe to little Indiana and receive instant updates to stay on top of everything "little." Just don't forget to tell 'em little Indiana sent you!
Find Corner Cup Cafe images and other Pictures in Indiana on my Flickr photostream.
Corner Cup Cafe
600 Roosevelt Road
Walkerton, Indiana 46574
574.586.3010

View Larger Map
little Indiana: Where to Stay, Play, and Eat in Small Towns in Indiana. Discovering Indiana's best small towns! Now get little Indiana on your Kindle.
Targeted. Relevant. Affordable! little Indiana Advertising