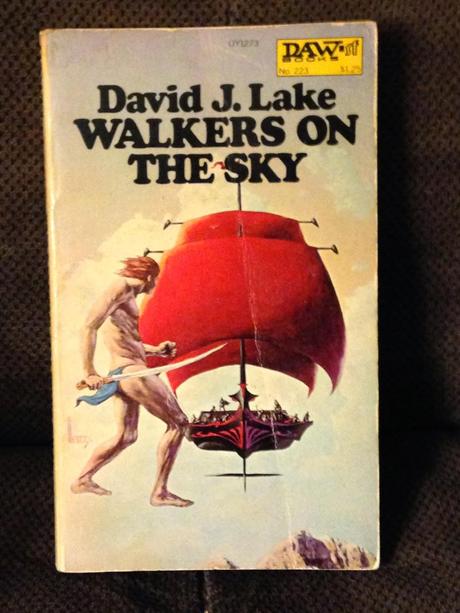 Richard Hescox
Author:  David J. Lake
First Publication:  December 1976
Publisher:  DAW Books
Source:  Used book store
Cover #1:  Richard Hescox
Cover #2:  Roy Ellsworth
Series:  Book 1 of the "Breakout" series.
Challenges:
The 2015 Sci-Fi Experience
2015 Vintage Sci-Fi Challenge
42 Challenge 2015
From the back cover:  
Sometimes the sky held only clouds, but at other times it could get quite busy.  It could be full of sailing ships or bands of mounted warriors or even single figures strolling carefully across the empty air.
From the viewpoint of those below they were either apparitions or gods, but in any case to be ignored.
From the viewpoint of the sky walkers, those below were neither phantoms nor gods, yet certainly always beneath their notice.
Both viewpoints were wrong.
Because the time had come when one of the sky walkers was going to do the incredible-fall through.  And when that happened, all hell was going to break loose.  And did!
It's not fantasy.  It's science fiction, and you never read another novel like it!
Why did I read this book?
I am a fan of the old DAW yellow spined books.  Donald Wollheim was one of the first editors I started following.  He seemed to find and publish many authors I enjoyed.  He was the first book publisher to print the works of C. J. Cherryh among many other favorites.
At the time they were printed, I did not realize that most of Lake's novels were part of the "Breakout" series.  I fondly remember reading book 2 "The Right Hand of Dextra" and book 3 "The Wildings of Westron".  Somehow I missed his first novel.
I enjoyed the other 2 books for the settings and world building.  His storytelling and dialog were weak but the settings kept me interested.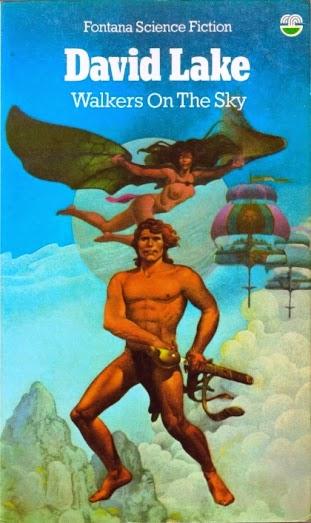 Roy Ellsworth
How is this book?
"Walkers on the Sky" followed the same pattern as the next two books in the series.  I found the world to be creative but the dialog was even more stilted than I remembered from the other books.  It was weak enough to take me out of the story at times.
Despite the claims on the back cover, the plot was very much a standard science fiction/fantasy cliche.  The humans who terraformed this world kept the advanced technology to themselves.  They use the science to set themselves up as gods for this new world.  The people on the surface are kept to a low level of science so they cannot challenge the "gods".
In spite of the creative use of forcefields to hold the atmosphere in place, I would pass on this book and start with his second novel ("The Right Hand of Dextra").  The sexism, stilted dialogue, and cliched plot showcase that the author was still learning to write.  My impression is that he became better by writing this book.