Walk Off The Earth hit the Coca-Cola Stage on Thursday night at the 2018 Calgary Stampede - and they put on a show!
The energetic and talented band from Burlington, ON are well known as top-flight entertainers, and they showed exactly why in front of the enthusiastic Calgary crowd.
While the band may be best known for their unique covers of hit songs on YouTube, they have hits of their own in Red Hands, Fire In My Soul, and NOMAD. Their live show has always been a mix of covers and originals, keeping the audience singing and dancing along while they do their thing up on the stage.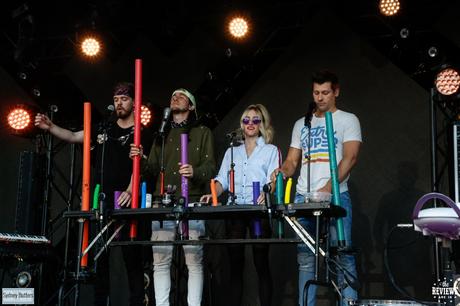 From start to finish, Walk Off The Earth gave the Calgary Stampede crowd a show that they won't soon forget. And we're willing to bet some of the people from the Thursday night audience will be in the front row the next time WOTE plays in Calgary!
Quote from the pit...
Absolutely incredible show last night!
Check out the photos from Walk Off The Earth's show - and check out the rest of our post from the 2018 Calgary Stampede!
click photos to see full sized image!